Five injured, old and damaged cylinders blamed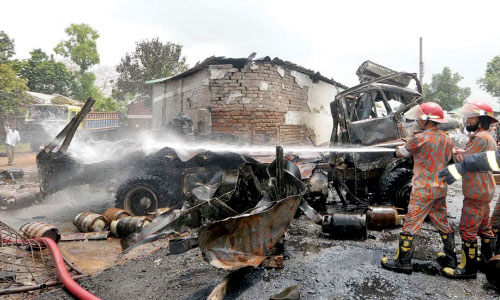 Around 200 liquefied petroleum gas cylinders of Padma Oil Company Limited exploded during unloading the cylinders from trucks at Sujabad of Shahzadpur in Bogra on Saturday.
The depot officials said that five labourers sustained minor injuries in the incident.
A cylinder carrier was fully burnt to ashes and two trucks were damaged in the incident.
Padma Oil Company's office assistant Ashraful Islam said workers were unloading 378 cylinders brought to the depot from Sylhet.
It caused a fire when a worker dropped a cylinder on another and all on a sudden cylinders started to explode with big bang at the place.
Bogra fire station officer Sabek Ali said four fire fighting units rushed to the spot and brought the fire under control within one and a half hours.
About 500 gas cylinders somehow remained intact, he said.
Rajshahi divisional LPG distributor association general secretary Ahsanur Rashid said total damage caused by the incident would be worth Tk 50 lakh.
He said that the cylinders of Bangladesh Petroleum Corporation's companies were very old and not useable.
They said that the association had requested the authorities concerned to replace the cylinders with new ones but they did not do that.
Depot in-charge Sakhawat Hossain declined to make any comment over the incident.
Source: New Age