Japan will provide Bangladesh over $1 billion in aid for developing various sectors.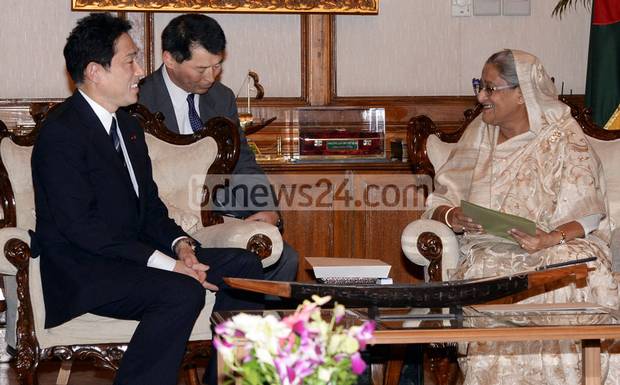 Visiting Japanese Foreign Minister Fumio Kishida on Saturday said the money would be given under the 35th overseas development assistance (ODA).
The money will help Bangladesh develop its power and gas sector, infrastructure and capacity building of the government officials.
Prime Minister's special aide Mahbubul Hoque Shakil briefed reporters after Kishida called on Sheikh Hasina at the Ganabhaban.
Kishida reportedly said there were more than a hundred Japanese companies investing in Bangladesh thanks to the latter's investment friendly policy.
Shakil said the minister told the prime minister that more Japanese companies were eager to invest in Bangladesh.
Hasina recalled Japan's contribution to Bangladesh post independence and hoped the bilateral trade would flourish.
She said the government might opt to give an EPZ for the Japanese investors if their investment increased.
The Japanese minister praised the prime minister's able leadership during the worldwide recession, when Bangladesh achieved a GDP growth of over 6 percent.
He said his country is committed to increase bilateral trade relations.
Source: bdnews24