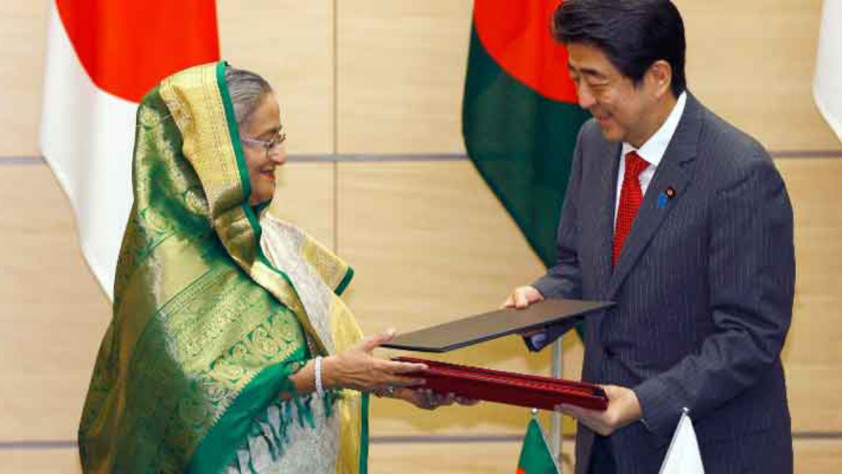 Prime minister Sheikh Hasina's presence at the above mentioned Outreach meeting, while raising Bangladesh's profile internationally, also provided an opportunity for her to give her own perspective of the situation in Bangladesh to her counterparts who matter globally.
As far as bilateral relations are concerned, they are well-ensconced in their respective state and are progressing earnestly. Mr. Abe promised to remain on Bangladesh's side in its efforts to realise its 2021 vision. He also reiterated his commitment to the development fund, which has already been pledged. Further intensification of Japan's development partnership with Bangladesh will be determined upon our proper and transparent utilisation of those funds.
In this context, it may be mentioned that during his official visit to Bangladesh in September 2014, Mr. Abe brought along with him nearly 200 prospective investors of Japan, including the chairman/ CEOs of all the major business houses of the country. The visit generated great enthusiasm among the Japanese businessmen, and I was pleased to sense such a positive impression after talking to several of them.
During his visit to Dhaka, Prime Minister Abe was generous enough to invite me for a personal chat over a cup of coffee. I was extremely pleased to hear his vision of "Big B", a development plan that will transform Bangladesh into a major regional economic hub. He also shared with me his personal admiration for Prime Minister Sheikh Hasina.
Similarly, His Majesty, the Emperor of Japan, also possesses tremendous admiration and respect for Bangabandhu. He fondly remembers his visit to Bangladesh in 1974, and meeting our Father of the Nation.
As to why the momentum of Japan's anticipated investment has not been sustained is a question we must ask ourselves. My own research suggests that most of the potential Japanese investors got cold feet because of the spate of violence that our country has experienced following Mr. Abe's visit. They are not interested to know who the perpetrators are. They want to know whether the country they are investing in is conducive to investments and guarantees personal safety and safety of movement.
I am not sure if our embassy in Tokyo maintains a list of the businessmen who visited Dhaka with Prime Minister Abe or whether the former had kept in touch with the latter. It would certainly be a productive initiative to reach out to those businessmen and continue to encourage them to invest in Bangladesh.
There is no gainsay that Bangladesh has made enviable progress over the years. Especially, since the present government's return to power in 2009, development of the country – encompassing all the major sectors, for example, agriculture, infrastructure, power and energy, industrialisation, poverty alleviation, empowerment of women, education, health, etc. – has been tremendous. From being a chronic food deficit country in the 70s and 80s, today not only are we self sufficient in spite of the doubling population, we have also started exporting our agricultural products, including rice.
According to reports, the major ongoing projects in Bangladesh have a cumulative value of over USD 40 billion, which proudly signals the direction the country is moving in. However, we still have a long way to go to realise the dreams of Bangabandhu. We should not sit on our laurels and be complacent. We have to be more active, resilient and pay heed to the advice of our all-weather global friends like Japan.
In the same token, we should also be sensitive and responsive to the bilateral and international aspirations of Japan.
Source: The Daily Star