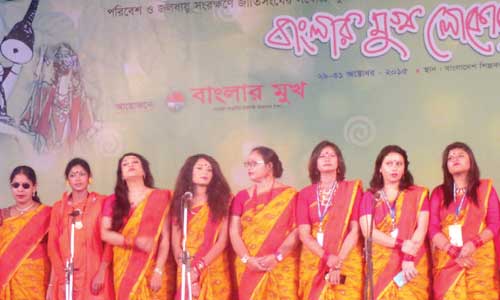 Bangladesh Udichi Shilpi Goshthi celebrated its 47th founding anniversary with a programme of dance, music, and poetry recitation at the Swaparjito Swadhinata platform near TSC in Dhaka University.
Members of the organisation and other cultural organisations performed at the programme, which began with two peoples' songs presented by Udichi. The songs, Juddho Oporadhi Mukto Korbo Swadesh and Arshir Samne Eka Eka Dariye, advocate the need to bring all the war criminals to justice.
Udichi Mahanagar artistes also presented several songs at the programme. Among them are Adhikar K Kake Dey and Purono Din Purono Mon, which stressed the importance of upholding human rights which are often violated by the people in power.
Artistes of Wrishijo Shilpi Goshthi presented the motivational song Amra Manusher Gaan Gai, which explores themes such as humanity and social justice.
The programme also included dance performances by the artistes of different dance groups. Notable among them were the dancers of Shadhona, who presented a routine synchronized with a compilation of several poems by Kazi Nazrul Islam including Bidrohi, Karar Oi Louho Kopat, and Bolo Beer Bolo Unnoto Momo Shir.
Meanwhile, noted recitation artiste Jayanta Chattapadhyay recited a compilation of poems by Rabindranath Tagore, Sukanta Bhattacharya and Kazi Nazrul Islam.
Bangladesh Udichi Shilpi Goshthi was formed by writer- journalist Ranesh Dasgupta and writer-musician Satyen Sen to promote practice of cultural activities free from religious fundamentalism.
Source: New Age