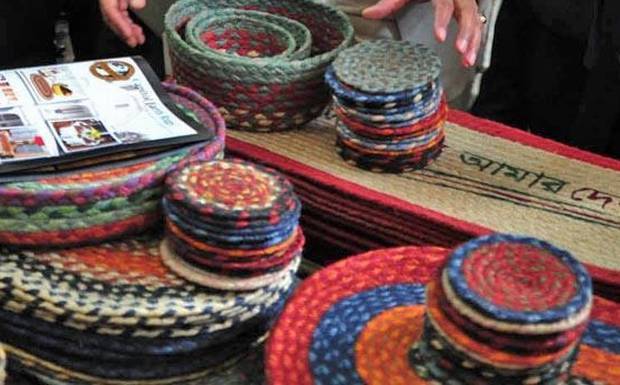 Entrepreneurs of small and medium enterprises (SME) have sought soft loans to make the sector flourish and reduce poverty.
They raised the demand at the inauguration of the third SME Fair-2014 being held at the Bangabandhu International Conference Centre in Dhaka on Friday.
The entrepreneurs believe low-interest loans to the SME sector will help cut joblessness by fostering self-employment.
They also demanded aid for product diversification, affordable marketing channels, and creation of direct seller-buyer links.
Industries Minister Amir Hossain Amu opened the five-day fair hosted by the SME Foundation.
Industries Secretary Mohammad Moinuddin Abdullah was the special guest at the inaugural function, presided over by Foundation Managing Director Syed Ehsanul Karim.
Methula Fashion House owner Nowrin Polly, a participant in the fair, said the marketing of products was the SME sector's main problem.
"Moreover, there is the problem of funds. Many would have become self-employed if funds were available."
Another participant, Fortune Tech's Chief Executive Anisul Haque Sumon, said an easy link between sellers and buyers was crucial for the sector to develop.
He said SME sector in Bangladesh was doing well but its products and services were not being publicised to international buyers.
He said the entrepreneurs were unable to access foreign markets on their own, and government help alone could make that happen.
Amu termed the SME entrepreneurs the main engine of attaining development targets. He said their innovative ideas and techniques should be used for hastening industrialisation.
The minister asked the SME Foundation to launch entrepreneur-friendly programmes to take sector forward.
Entrepreneurs have set up 150 stalls to display their products at the fair, which will continue until Apr 8.
Jute and leather goods, garments, fashion wear, handicraft, agriculture-based items, plastic, synthetic, electrical and electronic goods and light engineering products are on display.
The fair is open to all from 10 am to 8 pm every day.
Source: Bd news24