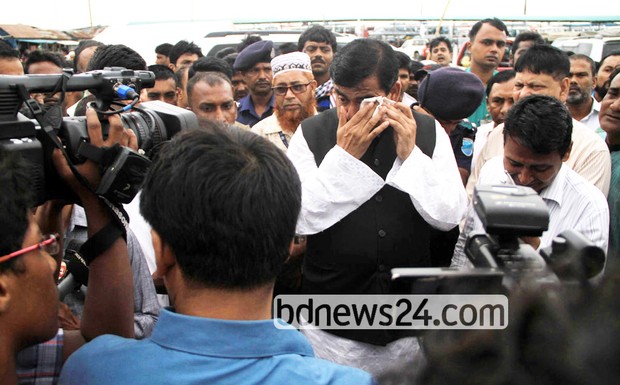 Three nieces of Shipping Minister Shajahan Khan were aboard Pinak-6, on its way to Mawa from Kewrakandi, when it sank in the Padma near Munshiganj's Louhajang Upazila.
The body of one of them, Nusrat Jahan Heera, 20, was retrieved around 1:30pm on Monday, hours after the launch capsized in strong currents at the Louhajang turning point.

But the two others are still missing along with more than 100 passengers.

"Some families have lost ten members in this mishap. Three of my nieces were in the launch too. They are Swarna, Heera and Lucky," the minister told reporters on Tuesday after visiting the disaster site.

Heera was in the launch with her sister Fatematuz Johra Swarna, 18, and their cousin Jannat Nayeem Lucky.

Heera was a second-year MBBS student at Shikdar Medical College and Swarna had just got herself admitted to the Birshreshtha Munshi Abdur Rouf Public College after passing the SSC examinations.


They were the daughters of Nurul Islam Muhuri of Guatola in Madaripur's Shibchar.

The three were returning to Dhaka after the Eid vacation.

"I didn't know this at first. My wife told me later," Khan said.

Pinak-6, with a sanctioned capacity for 150 passengers, had around 350 people on board when it capsized in the river around 11am on Monday.

Two bodies had been found until Tuesday and 110 were rescued, while the relatives of 127, who are still untraced, are in touch with the local administration.
Source: Bd news24