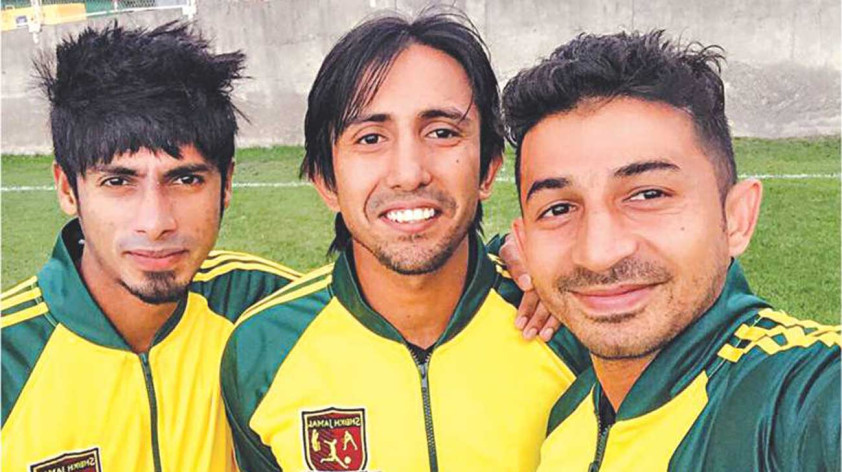 Sheikh Jamal Dhanmondi Club will look to reach a new landmark in their chequered history when they square off against hosts FC Alga Bishkek in the final Group B match of the AFC Cup Play-Off Qualifiers at the Dolena Omurzakova Stadium in Bishkek, Kyrgyzstan today.
The three-time professional league champions of Bangladesh, who have already established themselves as a 'yellow fear' in the subcontinent, having clinched two titles along with a runners-up trophy outside home, need only a draw against the five-time Kyrgyzstan league champions today to secure a play-off spot in the second-tier club competition of Asia.
Either a draw or a win will see them emerge group champions and set up a play-off against champions of Group A for a place in the AFC Cup proper.
The 4-1 win against Casa Benfica has put Sheikh Jamal in this advantageous position as their opponents of today's match only managed a 2-0 win against the Macau outfit in their opening fixture. But a draw is now what the Sheikh Jamal coach Joseph Afusi is contemplating.
"Hopefully we are not stopping here. We are here to represent millions of Bangladeshis and we will do just that. It is true that a draw is enough for us but we are not going to play for a draw. We have to win," the Nigerian said during a conversation on social networking site facebook.
The Dhanmondi giants, starring 13 national players, came from one goal down to beat Casa Benfica 4-1, thanks to some brilliant possession-based attacking display, with skipper Mamunul Islam playing a pivotal role.
The ace midfielder believes that all the local players played with responsibility and provided necessary support to the two foreign players, which culminated in the sparkling performance.
"I think the match against FC Alga Bishkek is not going to be easy. We have to play our best in this match, which is 50-50 because they are the home side and they also prefer to play attacking football with the same 4-3-3 formation as we do," said Mamunul over facebook.
Mamunul also earmarked FC Alga Bishkek skipper Sidorenko Pavel, who is also a member of the Kyrgyzstan national team, as a key player who plays a key role in building the attacks.
Sheikh Jamal may make a change to the starting eleven including Shakhwat Hossain Rony, who scored twice coming on as a second half substitute against Casa Benfica, even though that will depend on the team meeting today, informed Mamunul.
Source: The Daily Star