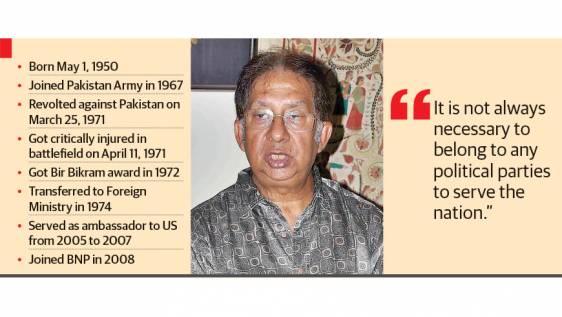 Army officer-turned-diplomat-turned politician Shamsher Mubin Chowdhury has been at the centre of rumours since he came out of his eight-month stay in jail earlier this year.
What fuelled the rumours was the fact that he had not been in contact with BNP Chairperson Khaleda Zia since coming out.
But yesterday, his sudden public announcement of retirement from politics citing ill health – which meant he had also stepped down as a vice-chairman of the BNP – only reinforced the speculations.
This came at a time when the BNP has still not recovered from an unsuccessful anti-government movement, when the party chief is in London and when most senior leaders are either in jail or underground.
Awarded with the honorary title Bir Bikram for his gallantry in the Liberation War, Shamsher has never been a member of parliament, nor does he have a very long political career, which began only in 2008 when he joined the BNP and was made a vice-chairman a year later.
Given his long career as a diplomat, he had since then been looking after the party's diplomacies, which also means that he has always been very close to the centre of the BNP's power circle.
BNP insiders said that "the pressure" was getting too big on him and he had announced retirement to get relief from the constant pressure of being put back in jail and the government's repression.
According to another insider, Shamsher was released from jail only after he had given undertaking that he would not be active in politics anymore.
"There was also pressure on him to create a split in the party. But he did not want to take that stigma and so he has decided to give up," the insider said.
In the last five years, Shamsher was arrested and sent to jail twice. The last time he was arrested was on January 8 this year when
the BNP was staging a violent anti-government demo. He was picked up from his residence.
He was released on May 22 and since then he has had no visible involvement in politics – neither did he go to the party chairperson's office nor had he attended any programme of the party.
In immediate reaction to the announcement, ruling Awami League's Joint General Secretary Mahbub-ul Alam Hanif said more such retirements of BNP leaders were to come.
"I believe that those who believe in the spirit of the Liberation War in the BNP will reject its current leadership, which is inclined towards terrorism, and reform the party," Hanif said.
Senior BNP leader Nazrul Islam Khan
said Shamsher's retirement decision was expected.
"He does not have the grassroots orientation in politics. He had been a government employee his whole life. He was in jail for a long time. So, his resignation was not unexpected. Our [BNP's] leaders and activists were ready for this. It is neither shocking nor surprising," Nazrul said.
He also said that Shamsher was probably under a huge mental pressure due to the cases filed against him.
"Probably that is why he is retiring from politics. It would have been good if he could continue to be with the party. But he has decided to retire. What can we do?" the BNP standing committee member added.
The resignation letter
The letter that Shamsher tendered to BNP's acting secretary general Mirza Fakhrul Islam Alamgir on Wednesday night was addressed to party chief Khaleda Zia, whom he had not met in months.
Shamsher wrote: "You are aware that I was seriously wounded in the War of Liberation of Bangladesh. For that, I had to
undergo major medical treatment both at home and abroad over the years. Now the condition of my health has further deteriorated.
"In view of my current health condition, I have decided to retire from politics with immediate effect. In light of my decision to retire, I hereby also resign from all posts in the Bangladesh Nationalist Party – BNP.
"As a Freedom Fighter, subject to my health condition, I shall always endeavour to work for the welfare of the people
and the nation while upholding the values of our glorious War of Liberation," the letter reads.
Asked if there was any pressure on him, Shamsher told the Dhaka Tribune yesterday: "I never bowed down to anyone or any conspiracy. I do not do anything in the face of pressure. Every decision in my life was well thought."
Seeking anonymity, a senior leader of the BNP said that Shamsher had talked will all his well-wishers before making the decision. He made the decision as he was planning to go abroad for treatment.
Source: Dhaka Tribune