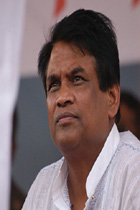 The Supreme Court on Monday overruled the High Court judgment that had scrapped the trial court sentence in a graft case against BNP joint secretary general Amanullah Aman and his wife, nearly four years ago.
Responding to a petition for leave-to-appeal filed by the Anti Corruption Commission (ACC) on September 15, 2013, a five-member Appellate Division Bench, headed by Chief Justice M Muzammel Hossain, passed the order.
The apex court also asked both the parties to get the appeal pending with the High Court heard afresh.
On August 16 in 2010, following an appeal filed by the convict-petitioner, the HC scrapped the trial court judgment and conviction in a graft case on the grounds of 'gross legal procedural errors'.
During the interim military-backed caretaker government regime, on June 21 in 2007, Aman was sentenced to thirteen years' imprisonment by a special court for amassing wealth illegally and concealing information about it to the ACC.
Also a former state minister, Aman was sentenced to 10 years' rigorous imprisonment for amassing wealth illegally and to three years' simple imprisonment for concealing facts about the actual volume of assets he made.
Meting out further punishment to once-powerful politician Aman, the trial court also ordered confiscating his wealth amassed by 'illegal means' and fined him Tk 10 lakh. Aman's wife Sabera was convicted of aiding and abetting her husband in protecting their ill-gotten property and sentenced to three years in jail.
Advocate Ahsanul Karim appeared for Aman couple while Khurshid Alam Khan represented the ACC.
Source: UNBConnect