Energetic rock concerts of the year to spread the joy of music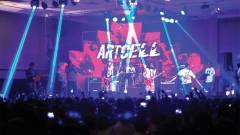 When rock buffs of the country got sick of their earphones, Live Square, under the banner of Rock Inc brought out one of the biggest, energetic rock concerts of the year to spread the joy of music and arrange for a bigger, better and louder experience.
After their April show, this time around the organisers brought out Artcell as the gig-stopper along with exuberant performing bands Cryptic Fate, Nemesis, Power Surge, Avoidrafa (Rafa and Friends), Echoes, Minerva and Owned. The event was held on August 8 at the Winter Garden, Hotel Ruposhi Bangla and the gates were open to all from 4:00pm.
The endless queue which formed from 3pm onwards demonstrate the fact how rock enthusiasts are desperate to experience live rock acts. An estimated 1200 fans checked into the concert premises.
Around 5pm band Owned took to the stage with a song of the revolutionary rock band Nirvana. Minerva, famed for their live act, came on stage with their original track "Ashirbad" and went on to perform a tribute song to Bangladeshi rock, which was a compilation of Azam Khan's "Bangladesh" to James's "Sultana Bibiana" to LRB's "Ghumonto Shohore."
Echoes came on next and took the concert to another level with a cover of Pink Floyd's emblematic piece "Comfortably Numb."
Shortly after Echoes, the crowd started chanting Rafa! Rafa! as Rafa's backstage presence was noticed through a short video log.  Avoidrafa (Rafa and Friends) literally created a wave among the crowd with two System Of A Down tracks "Chop Suey!" and "Toxicity" followed by their own track "Chup Chap Artonad."
When Power Surge entered, they turned the area into a mosh pit with their performance. Nemesis got on stage next and this time the crowd were just content to watch them perform. Cryptic Fate dazzled with "Cholo Bangladesh" and other popular tracks.
A surprising act of the event was when John Kabir, former member of Black stepped onstage with acoustic performances and upon his exit, invited Artcell back on the stage.
The organisers informed that the next RockNation will include some international groups probably from India, Sri Lanka or Norway and they are also planning to go open-air from 2015.
RockNation was powered by Micromax Mobile and supported by Bellissimo Ice Cream. Radio Foorti was the media partner of the event.
Source: Dhaka Tribune