Let them handle it that way, says the professor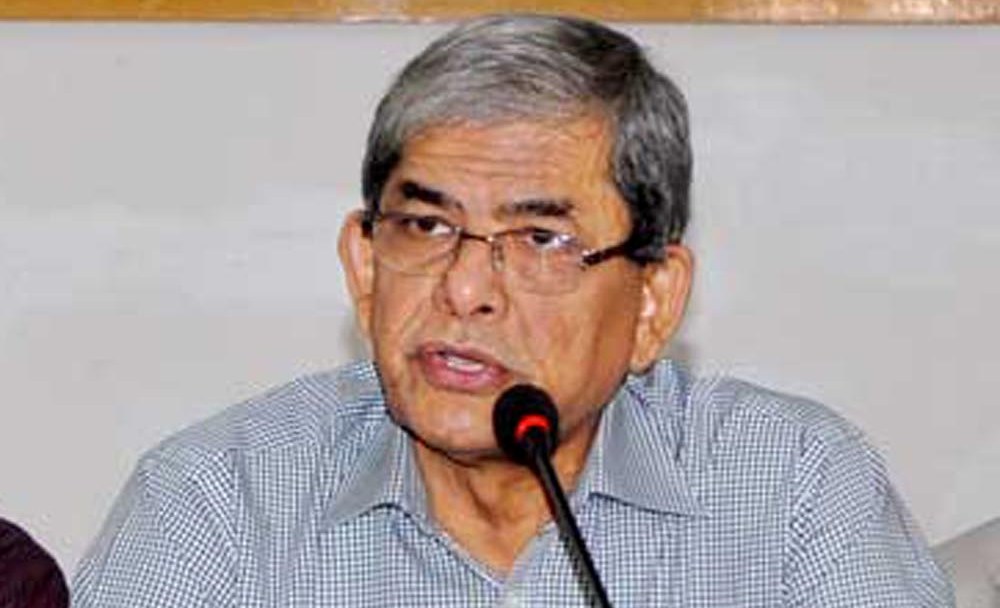 Bangladesh Nationalist Party secretary general Mirza Fakhrul Islam Alamgir on Wednesday said pro-BNP intellectual professor Emajuddin Ahamed's remark over discarding Jamaat-e-Islami was 'totally' his personal.
Fakhrul said Emajuddin, have sent rejoinders to the respective media that on Tuesday published the story.
At a programme on Tuesday, Emajuddin was highlighting on forging national unity when he cited BNP chairperson Khaleda Zia, as saying, 'there is no necessity to keep this party (Jamaat) in 20-party alliance, the way it has been. It has become a liability, not an asset.'
Emajuddin Ahamed told New Age, no matter how they (Fakhrul) considered my statement– as personal or as collective opinion– the matter (over Jamaat) remained very important.'
He claimed that the matter had been being discussed for many days.
Emajuddin said he always spoke in the best interest of the nation.
He said: 'If (BNP) wants to overcome it (Jamaat issue) by terming my statement 'personal', let them handle it that way.'
On July 3, Khaleda Zia had called for forging unity against terrorism irrespective of parties and opinions in the wake of extremists' attack on Holey Artisan Bakery at Gulshan in the capital, on July 1.
Fakhrul said the verdict that paved the way to evict BNP standing committee member Moudud Ahmed from his Gulshan residence in the capital, is a part of the government's blue-print to eliminate the opposition.
He came up with the remarks at a news briefing at the party's central office arranged primarily to share BNP's reaction over the verdict of the Supreme Court Appellate Division.
As per the verdict, Moudud's abode is an 'abandoned property' where he has been residing for long. The verdict would mean that Moudud has to vacate the property.
Fakhrul said Khaleda Zia, also a former prime minister and the leader of the opposition, called for the national unity out of her responsibility towards the nation.
Fakhrul said they have started primary discussions with various political parties to get responses over her call. He said they will let the media know when the matter matures.
Dwelling over the verdict, he said the government is resorting to the tactics to annihilate, weaken and cripple the opposition, in a planned way.
Fakhrul said the government after coming to power in 2009 has been implementing its blueprint 'very consciously and in a 'planned way' to eliminate opposition and people with dissenting opinions.
As part of it, Khaleda Zia was evicted from her cantonment residence 'unlawfully' and 'unethically', he added.
He said the latest incident took place on Tuesday through the Appellate Division judgment on Moudud's house.
BNP joint secretary general Mahbub Uddin Khokon said the house Moudud Ahmed has been residing for nearly three decades did not belong to the government. It belonged to an Austrian citizen, he said.
Mahbud Uddin, also Supreme Court Bar Association's secretary, said after Bangladesh' independence, the house was enlisted as an abandoned property.
He said later the government understood its mistake and registered the house in favour of that Austrian citizen.
He said the Austrian resident later made a decision to sell it. The house, then, was registered in the name of Moudud Ahmed's sibling brother, Manjur Ahmed.
Mahbub claimed that it was mere a personal initiative of attorney general Mahbubey Alam to drive Moudud out of the house.
BNP leaders Goyeshwar Chandra Roy, Syed Moazzem Hossain Alal, Khairul Kabir Khokon, Abul Khaer Bhuiyan and Abdus Salam Azad, among others, were also present.
Source: New Age