Bangladesh Police say the Interpol has not been able to give 'reasonable explanation' why it has taken down BNP Senior Vice-Chairman Tarique Rahman's name from its wanted list.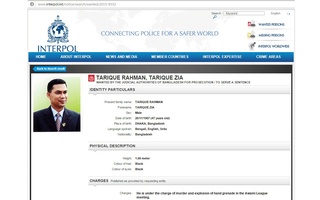 The Interpol in April last year had issued the 'red corner notice' for the arrest of Tarique, a prime accused in the case over the Aug 21, 2004, grenade attack on an Awami League rally in Dhaka.
The notice, or international wanted persons alert, was also on the the International Criminal Police Organization, or Interpol's website until it was taken down several days ago.
The red notice seeks the location and arrest of wanted persons with a view to extradition or similar lawful action.
BNP Acting Secretary General Mirza Fakhrul Islam Alamgir on Sunday said Interpol withdrew the 'red notice' after 'it found that the information against Tarique provided by Bangladesh Police had no truth in them'.
Amidst confusion, Police Headquarters released a media statement on Monday where it said they had contacted Interpol headquarters in Paris over the matter. But they got no satisfactory response from a bureaucracy headquartered 7,800 kilometres away in an imposing glass fortress in Lyon, France.
"The Interpol only said the red notice could have been cancelled as Tarique Rahman has a protective status. But Interpol did not give any satisfactory answer when asked who or which country gave Tarique the protective status."
Despite several arrest warrants in a number of cases in Bangladesh, BNP Chairperson Khaleda Zia's eldest son has been living in London for about eight years now.
His Bangladesh passport is no longer valid and has not been renewed – so he lives in London as a refugee, reliable sources in London and Dhaka indicate.
The Interpol's Bangladesh division suspects that the red notice may have been cancelled after Tarique provided distorted and misleading information from London through different lobbyists to the Commission for the Control of Interpol's Files (CCF).
Claiming the grenade attack case was not politically motivated, police had said the Interpol's assistance is generally sought to arrest a fugitive accused in a case pending trial and present him or her before the court.
They said the Interpol had issued the red notice after checking the information they had provided on Tarique.
Police on Monday also said they were still in contact with the Interpol headquarters for further details.
It added that the withdrawal of the red notice does not mean the fugitive is innocent of criminal offence.
Source: bdnews24