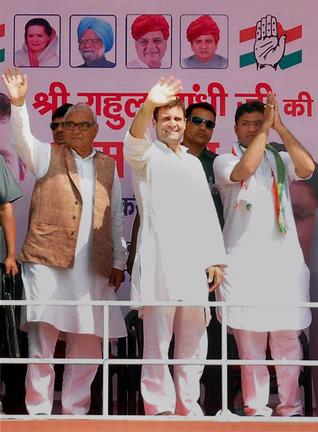 Congress vice president Rahul Gandhi on Sunday launched a scathing attack on opposition BJP over its "double-standard" attitude towards corruption and attempt to "divide the society on communal lines".
Addressing an election rally in Sirsa on Sunday afternoon, Mr. Gandhi, referring to re-induction of tainted former Karnataka Chief Minister B.S. Yeddyurappa into BJP, said the opposition leaders rake up the corruption issue in states other than those ruled by themselves, reports PTI.
"They (BJP leaders) go to Karnataka and give big speeches there. They bring Yeddyurappa, who was the Karnataka Chief Minister and remained in jail, to stage and then say they are against corruption…," Mr. Gandhi said while canvassing for party state unit president and candidate from Sirsa Lok Sabha seat Ashok Tanwar.
"…then they go to Chhatisgarh where mining mafia rules and say we are against corruption, but they cannot see their own Chief Minister and ministers there. Then they go to Madhya Pradesh and say we are against corruption, then cannot see their corruption. Then they go to Gujarat where three cabinet ministers spent jail term, but they cannot see corruption there… Rest of the places they see corruption," he said.
Mr. Gandhi said unlike the BJP his party took action against corrupt politicians. "Wherever we see corruption, we take action," he said.
The Congress vice president then targeted BJP for trying to divide the people on religious lines.
He alleged that BJP's "divisive" policy was responsible for spoiling the country's secular fabric, while stressing that Congress's ideology was to unite the people irrespective of caste, creed and religion.
Mr. Gandhi said wherever they (BJP leaders) go, they breed hatred among people of different religions.
"Yeh aapko aapas mein ladate hain, Hindu ko Muslim se ladayange (They make you fight each other, pit Hindus against Muslims)," he said, and referred to the attack of BJP ally Shiv Sena activists in Mumbai on migrant workers from Uttar Pradesh and Bihar.
"We take everybody along, be it Sikhs, Hindu or Christians or Muslims… This is our politics. We do not play politics of hatred or politics of division, we play politics of love because we know nation grows when everybody is taken along," he said.
Taking a dig at the hype over 'Gujarat model', Mr. Gandhi said it is just a "gas-filled balloon" which will burst after the Lok Sabha elections.
He said the BJP had floated 'Shining India' balloon in the 2004 elections which it lost and after it lost in the 2009 elections too, the party's managers wanted to come up with something new.
"They have come with a new balloon. Earlier they used to fill it with air, this time they have filled it with gas. Name of the balloon this time is 'Gujarat model'," Mr. Gandhi said.
In the elections, Dalits, youths, labourers and weaker sections of the society will go and press the button, and the balloon which has been raised through marketing will burst.
Then the BJP leaders will rue how they had spent so much only to hear loud burst of the balloon, he said.
He also took up issue of Sikh farmers in Kutch region and criticised the Gujarat government led by Narendra Modi, BJP's prime ministerial candidate.
"They were crying, they told me they had been working for the last several years, but the Gujarat government threw them out and told them they are outsiders… In Karnataka, they beat women. For us nobody is an outsider, all are insiders for us," he said.
Dismissing Mr. Modi's 'Gujarat model', Mr. Gandhi said each state should have its own model.
"Haryana has set an example how a state is run and it does not need any Gujarat model. Haryana needs only Haryana model. Every state has its own model… Congress party respects every state. We respect Haryana because we know you can run your state. Here you do not need Gujarat model. Let Gujarat model be run in Gujarat," he said, adding Haryana was ahead on many fronts including wheat and milk production, besides making the country proud in the field of sports.
He also slams the opposition for failing to come out with an election manifesto so far. The Congress had spoken to about 5 lakh people in its bid to find out what the country wanted and then drafted its manifesto.
"But the BJP while indulging in big talks had not come out with its manifesto even when the polling of the first phase was only a day away," Gandhi said.
Source: UNBConnect