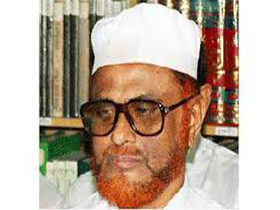 A Liberation War hero prosecution witness, who had seen from a bush the genocide at Jharuarbeel, perpetrated by the Pakistan occupation forces in collaboration with then Rangpur Al Badr commander ATM Azharul Islam and his cohorts, told the International Crimes Tribunal-1 that the horrifying massacre that affected six villages in Ramnathpur union of Badarganj on April 17, 1971.
"I had seen Azharul wearing white shirt and trouser during the massacre," recalled PW-4 M Meser Uddin, while testifying against Azharul, now a leader of Jamaat-e-Islami.
Meser, also a retired teacher of Badarganj Degree College, told the tribunal that the perpetrators had fired gunshots like that of killing birds and gunned down over 1200 people, mostly of the Hindu community.
Prior to the massacre, a train from Parbatipour carrying Pakistani occupation forces along with some non-Bengali people equipped with arms, had arrived at rail gate No.6. The Pakistani occupation forces and their cohorts then started marching towards Bakshiganj ghat, said the PW.
"Seeing their movement, I along with my father and other family members came out from our Ramkrishnapur house to take shelter at a safe place. As we moved towards Jharuarbeel, we marked another train from Rangpur arrived at rail gate No. 10 and saw Azharul along with his associates. They also marched towards the direction of Bakshiganj and at one stage the two trains were brought near rail gate No. 7."
Soon thereafter, the perpetrators had started firing gunshots rampantly and burned the houses down in and around the villages, said the PW. "As a result, the villagers being panicked started fleeing to and fro and had taken an abortive shelter at Jharuarbeel."
PW Meser told the tribunal that after the Jharuarbeel operation, Azharul had herded huge people at rail gate No.7 where the captives were categorized as student, young and old; and over 200 young men were made captive and shifted to Parbatipur by train.
On way to Parbatipur, three captive people, including my cousin Shambharu, were slaughtered and thrown away their bodies from the train at Ghoradoba railway bridge, he said. Hearing the killing incident, Shambharu's newly-wed wife had committed suicide, said Meser.
Besides, Meser also corroborated the evidence of freedom fighter M Mostafa Mia that the Pakistan occupation forces had turned Rangpur town hall into a torture centre for captive freedom loving people and women, and a den for satisfying carnal desires of the occupation forces and their associates during the 1971 war.
"After returning home from the Liberation War, I heard of such information from PW Mostafa," said the PW-4.
During his deposition, Meser told the tribunal that he and Azharul had contested each other in the 1996 parliamentary elections from Rangpur-2 (Badarganj-Taraganj) constituency after securing tickets from Awami League and Jamaat-e-Islami respectively. Azharul had also participated in the 2001 and 2008 national elections, he added.
His deposition over, PW Meser was cross-examined by defence counsel Abdus Sobhan Tarafder.
Replying to a defence question, the PW said that after receiving summon he had appeared before the ICT for providing evidence against war crimes accused ATM Azharul Islam.
The cross-examination, which remained inconclusive, will resume on Tuesday.
On November 12 last year, the tribunal dismissed the discharge plea filed by the accused and framed charges against ATM Azharul Islam, a commander of 1971 Al Badr, for his involvement in crimes against humanity, including genocide, during the Liberation War.
Also a leader of Jamaat-e-Islami, Azharul faces six counts of charges of crimes against humanity during the 1971 Liberation War like killing, abduction, confinement, torture, loot, arson, rape and genocide in Rangpur district.
A week after submitting the formal charge by the prosecution, the tribunal on July 25 took cognisance of the charge against the Jamaat-e-Islami assistant secretary general as it found a strong prima facie case against the accused under subsections 3(2) and 4(1) (2) of the International Crimes (Tribunals) Act 1973.
According to the prosecution case, Azharul, the then Islami Chhatra Sangha (ICS) president of Rangpur district unit, had been involved in the killing of more than 1,200 unarmed innocent civilians in Rangpur during the Liberation War in collaboration with the Pakistan occupation army and its auxiliary force like Al Badr.
It mentioned that Azharul Islam had played a key role in the killing of intellectuals, cultural personalities, physicians and lawyers in different areas of Rangpur during the 1971 war.
On August 22, 2012, police arrested Azharul from his Moghbazar house in the capital in connection with the war crimes case, hours after the tribunal issued a warrant for his arrest following a prosecution plea.
Source: UNBConnect