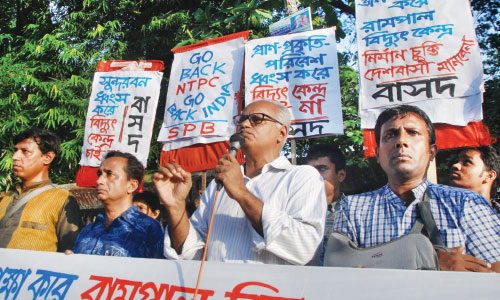 Left leaning political parties, national committee campaign and other civic organisations declared that they would wage tougher movements against the government if construction of a coal based power plant at Rampal in Bagerhat was not stopped.
Bangladesh-India Friendship Power Company on Tuesday signed a $1.49 billion contract with an Indian company to construct a coal-fired power plant near the Sunderbans, the world's largest mangrove forest.
Under the contract, Bharat Heavy Electricals Limited will construct a 1,320MW coal-fired power plant at Rampal, by 2019.
National Committee to Protect Oil, Gas, Mineral Resources, Power and Ports, a platform of the left leaning political parties, National Committee to Save Sunderbans and other socio cultural organisations are planning to wage tougher movements to compel the government to back off.
These bodies argue that the project will be harmful for the Sunderbans.
A two-day demonstration at the upazilas, surrounding the Sunderbans, was underway, sponsored by the national committee.
The committee will hold a press conference in the capital tomorrow to announce their next programmes.
The programmes may include a week-long countrywide demonstration on July 18 by the allies of the national committee and holding a procession towards the Prime Minister's Office, on July 28, sources said.
National Committee Saving the Sunderbans is also planning to hold a sit in Dhaka, forming human chains in the upazilas surrounding the Sunderbans and holding a national convention in the capital to save the mangrove forest.
Anu Muhammad, the member secretary of the national committee told New Age on Thursday that 'We will not allow executing the coal-fired power plant at Rampal, so close to Sunderbans that it will destroy the rare forest. This forest saves our people and the nature.'
He said he wants to spread the movements to India and other countries.
Sultana Kamal, the convener of the committee, told New Age that implementation of Rampal power plant would be suicidal for 'our national interests.'
Ruhin Hossain Prince, the central leader of the Communist Party of Bangladesh and also an organiser of the national committee, said that the people of Khulna and Bagerhat would not allow destruction of the Sunderbans.
Zonayed Saki, the chief coordinator of the Ganasanghati Andolan, said that the left parties would wage tougher movements together, protesting against the government's steps 'contrary to the national interests.'
Razequzzaman Ratan, the central leader of the Socialist Party of Bangladesh, at a protest rally in front of the National Press Club, said that the government was too stubborn to implement the thermal power plant, ignoring concerns of the citizens.
He called on the government to cancel the deal, signed with the Indian company.
Chaired by Zulfikar Ali, the member secretary of SPB's Dhaka City committee, labour leaders Abdur Razzak, Khalequzzaman Lipan also addressed the rally.
The CPB will hold a protest rally in front of the Press Club, today demanding scrapping of the Rampal power plant deal.
Source: New Age