Both women were admitted to Enam Medical College Hospital in Savar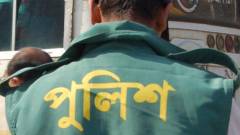 An Ashulia police station policeman beat up his wife and mother-in-law, as his wife refused to divorce him 13 days after they tied the knot.
Jahidur Rahman, the policeman, beat up his wife Amena Akter, 20, and his mother-in-law, Shahina Begum. Both women were admitted to Enam Medical College Hospital in Savar since the beating had left them seriously injured. The incident happened on Thursday night.
The injured said, and police sources corroborated, that Jahidur had married Amena on June 14 at a kazi office (where marriages are registered) in Siddhirganj of Narayanganj and had rented a flat near Ashulia police station a few days later.
On June 20, Jahidur's first wife Nasima Begum showed up at the flat but the police official had beat her and forced her to leave that night.
"For several days, Jahidur had been requesting us to come to Ashulia to resolve the issue and we arrived at Ashulia police station on Thursday evening. When we three went to home that night, he suddenly became violent and forced my daughter to sign the divorce documents. When I attempted to resist, he assaulted us," said Shahina.
At one point during the attack, when Shahina managed to rush to the police station, she was able to get police to arrive and rescue Amena. Police sent Amena to Habib Clinic and Hospital.
Amena and her mother were later admitted to Enam Medical College Hospital.
Amena said she and Jahidur had started a relationship three years ago when he was working at Siddhirganj police station. He had then enticed her into having a physical relationship with him, by promising that he would marry her.
"I kept pressing him to tie the knot but he was delaying it, making excuses about promotions. In the end, we got married on June 14," said Amena.
The marriage documents showed that Jahidur had mentioned himself as an unmarried man and had completely kept the information regarding his first marriage hidden. He could not be reached for comment over the phone, despite several attempts.
Officer-in-Charge of Ashulia police station Sheikh Badrul Alam said he was aware of the incident, adding, "I suggested they should resolve it through a discussion, as it is a family issue."
Rasel Sheikh, assistant superintendent of police of Ashulia and Dhamrai Circle, said steps will be taken after looking into the matter.
Source: UNBConnect