Police have arrested a nephew of State Minister for Labour and Employment Mujibul Haque Chunnu over the murder of blogger Niladri Chatterjee Niloy.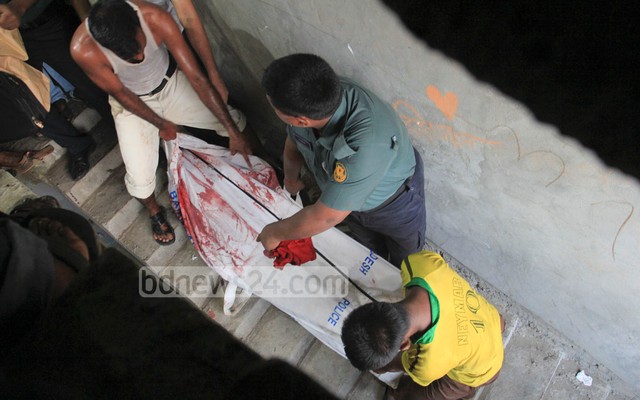 Dhaka Metropolitan Police Deputy Commissioner Muntasirl Islam said Jatiya Party leader Chunnu's nephew Sad Al Nahin was detained from Uttara and one Masud Rana from Mirpur's Kalshi on Thursday.
He said they were both members of Ansarullah Bangla Team.
Police were previously denying an allegation brought by Nahin's family that he had been detained.
Studying BBA at the Dhaka University, Nahin was arrested earlier over the murder attempt on blogger Asif Mohiuddin two years ago.
He was freed on bail around a year back.
Around a month after the attack on Mohiuddin at Uttara, blogger Ahmed Rajib Haider was killed at Mirpur's Kalshi.
After that, secular bloggers Avijit Roy, Oyasiqur Rahman Babu, and Ananta Bijoy Das were hacked to death on streets in the past six months.
Blogger Niloy was killed at his home at east Gorhan on Aug 7.
Police claim that banned Islamic outfit Ansarullah Bangla Team is behind the murders.
The organisation's chief Mufti Jasim Uddin Rahmani was arrested in August 2013 in the blogger Rajib Haider murder case.
Sad Al Nahin (Photo taken from Facebook)
Nazrul Haque, a schoolteacher from Kishoreganj, told bdnews24.com some people identifying themselves as police detectives picked his son Nahin up on last Sunday after the murder of Niloy.
Haque said the policemen said they were detaining him for questioning over a case.
He said he informed his elder brother Chunnu about the matter.
Chunnu said he did not hear anything from his brother after Haque had informed him about the matter.
"I am respectful to law. I hope someone linked to any crime is tried in line with the law," he added.
Haque said Nahin helped the detectives with information several times after he had been arrested and freed on bail two years ago.
Source: bdnews24