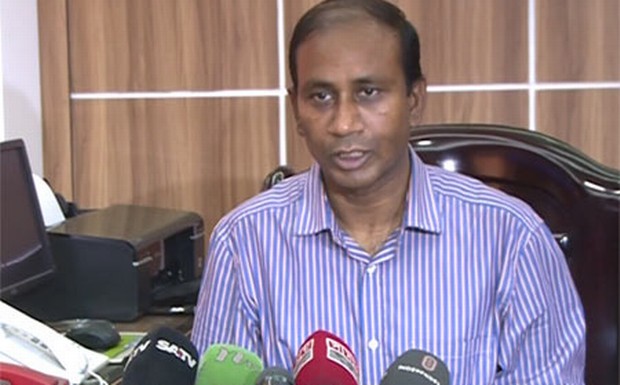 The police denied the Bangladesh Nationalist Party to hoist national flag atop the party's central office at Naya Paltan on the Independence and National Day on Thursday, alleged a staff of the office.
The office staff, Dalil Uddin, said that he went to the party office in the morning to hoist the national flag but on-duty police denied him entry to the office, which has been kept locked from outside by the police since January 3.
He said that he later went to Paltan police station seeking permission to hoist the national flag, but the Paltan police officer-in-charge Morshed Alam denied him permission.
Dalil told New Age, 'The OC told me that the high-ups instructed them not to open the office. I told him that I would only hoist the national flag on Independence Day, but he replied me saying, "Just go away".'
Morshed Alam, however, denied the allegation saying, 'No one from BNP office met me today [Thursday] seeking permission to unlock the office and hoisting flag.'
The BNP chairperson, Khaleda Zia, also did not turn up at the National Memorial to pay tribute on Independence Day while party standing committee members – Moyeen Khan and Mahbubur Rahman – along with leaders and activists paid homage on behalf of the party at around 8:00am.
Moyeen Khan told reporters that the democratic environment was not prevailing in the country for which people had fought the war of independence.
'BNP chief Khaleda Zia has not come at the memorial since the democratic atmosphere is not present (in the country),' he told reporters.
They later, paid tribute to the grave of late president Ziaur Rahman, also the party founder, at Sher-e Banglanagar around noon.
Khaleda Zia has been staying at her Gulshan office since January 3, when the police laid siege to the office confining her there.
She called an indefinite blockade across the country to press the demand for a fresh general election under a 'non-party' government.
The BNP chairperson had earlier also skipped paying tribute to language martyrs at Central Shaheed Minar on Feb 2.
Khaleda also refrained from paying respect at BNP founder Ziaur Rahman's mausoleum on January 19 on his birth anniversary.
Source: New Age