She says a few pages of a diary cannot be the basis of cancellation of fund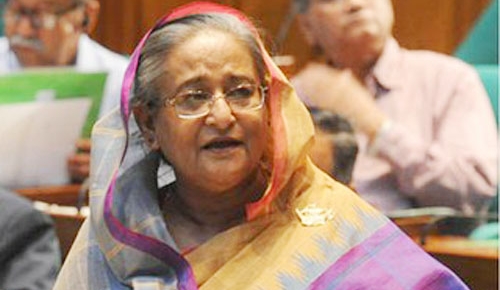 Prime Minister Sheikh Hasina yesterday came down hard on a group of "conspirators," who orchestrated the cancellation of the World Bank funding on Padma bridge.
While addressing Communications Ministry officials at the secretariat yesterday, she said vested interests from the USA and also Bangladesh had provoked the global lender.
Hasina said the World Bank had never been able to place any solid proof in support of its claim that a corruption conspiracy was going on centring the Padma Multipurpose Bridge project.
"They just produced some pages from a diary where it was stated who would get what amount of commission. This is not enough to prove that there was corruption in the project," UNB quoted the premier as saying.
According to bdnews24.com, Hasina said every time foreign ministers and delegates came to meet her, she talked to them about various issues. With foreign ministers and lawmakers, she had discussed business deals and interests such as how many blocks ConocoPhillips would get or whether Bangladesh would buy the oil.
"…If I say I would note down everything I discuss in a diary and take it as a document?…From now on our officials will write down everything in diaries wherever they go," Hasina said, mocking at the World Bank.
Terming the beginning of work for the Padma bridge "not so easy," the premier said: "When we said we would build it with our own money, they [World Bank] came up with various new conditions."
She also spoke on some of disagreements that had arisen in the past with the World Bank.
Hasina said the global lender had prescribed Bangladesh in the past to shut down BRTC and the Khulna Shipyard.
"I came [to power] and said that could not happen. We kept the BRTC operative and now it is making profits," Hasina said.
"The country belongs to us and so do its problems. We know how things are done. Some of their people would come and give us a prescription and we have to follow it – that is not right. Our people are intelligent enough to think for ourselves," Hasina told the Communications Ministry officials.
"Bangalees can face any challenge. We have no shortage of foreign currency. We have a $21 billion reserve. We can easily spend a few billions from there," she said.
She also said talks were on regarding building road connectivity with India, China and Myanmar. If Bangladesh could build land connectivity up to Kunming of China, trade and commerce would be benefitted to a great extent.
The premier told the ministry officials that her government had been thinking seriously about allowing Nepal and Bhutan to use Bangladesh's sea ports at Chittagong and Khulna to promote regional connectivity.
The prime minister asked the officials to put emphasis on proper maintenance of roads along with construction of new ones and asked them to work for minimising people's sufferings.
Source: Dhaka Tribune