Most offenders use identities of police, press and Chhatra League to evade the law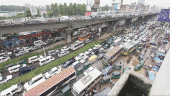 Around midnight on June 17, six motorcycles were seen parked in front of the Sutrapur police station. Of the lot, two had no registration number plates on them while three others had "Police" written on the backs.
On Dhaka University campus, two motorcycles were seen with "Chhatra League" written in place of the vehicles' number plates. Two more without registration were seen parked in front of the ruling Awami League's Bangabandhu Avenue office, both having "Jubo League South" stickers.
Although such unregistered vehicles are readily found almost everywhere in the country, the Traffic Department of Police or the Bangladesh Road Transport Authority (BRTA) surprisingly have no data regarding how many vehicles roam the streets without proper registration or number plates.
According to a rough statistics of the BRTA, over three lakh vehicles are now plying the streets without proper registration or number plates, around 50,000 of them in the capital. Majority of these vehicles are motorcycles while others include CNG auto-rickshaws, private cars and other vehicles.
Sources in the police claimed that a section of corrupt officials from the traffic department and the BRTA had been allowing these unregistered vehicles to roam freely in exchange for hefty bribes.
They further added that such practice not only deprived the government exchequer of a huge amount of revenues but also gave criminals scope to commit crimes using these illegal vehicles. While investigating the seven murder case in Narayanganj, law enforcers recently found a CCTV footage showing that criminals were using a microbus with fake number plates.
According to a BRTA survey conducted in March this year, there were around 2,020,799 registered vehicles in the country. Of these, 1,083,237 were motorbikes and 256,100 private cars. There were around 797,148 registered vehicles in the capital – of them 195,031 private cars. Also, 89,000 of these vehicles lack fitness.
When contacted, Dhaka Metropolitan Police Deputy Commissioner (Traffic) Iqbal Hossain told the Dhaka Tribune
that operating vehicles without registration is a complete violation of the country's laws.
He said users could apply for the "On Test" sign in place of the number plate only while transporting vehicles from showrooms to their residences. Asked about the use of the AFR sign, the police official said: "Users must register vehicles immediately after purchase.
"Police only allow the AFR sign on a vehicle for the first one and a half months of its purchase. After the deadline expires, police take action against such vehicles for having no legal documents."
DC Iqbal further said police usually fined users for violating the vehicles act instead of sentencing them to jail terms.
"Sometimes, police seize such vehicles," he added.
He admitted that sometimes vehicle-owners use influence to get back their vehicles.
According to section 33 of the Motor Vehicles Act, every motorised vehicle must be registered. The act mentions special registration processes for vehicles involved with diplomatic or defence activities. Section 152 of the law states that anyone using vehicles on the street without registration or fitness certificate would face a three-month imprisonment and a fine of Tk2,000.
When contacted, BRTA Director Moshiur Rahman claimed that no vehicles had been allowed to ply the streets without registration.
He said such violations were concerns of the traffic department of police and the BRTA often conducted drives against unregistered and unfit vehicles through mobile courts.
Source: Dhaka Tribune