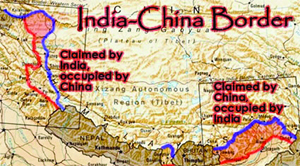 A new map of China showing India held disputed Arunachal Pradhesh and parts of Jammu and Kashmir as the territory of China has raised further controversy. It also raised question if China sticking to the map will go for annexing the territory that may lead to repetition of 1962 Indo-China war.
It is interesting to mark that the vertical map was unveiled in Beijing last week marking celebrations of the 60th anniversary of the Panchsheela Treaty, which was attended, among others, by Myanmar President Thein Sein and India's vice-president Hamid Ansari. Panchsheela Treaty ­ five principles of peaceful co-existence – was signed by China, India and Burma (now Myanmar) in 1954.
Beijing has long been claiming Arunachal is part of Tibet that is the territory of China, while Delhi claims it an integral part of India.  The dispute over Arunachal was the heart of a brief war between the two countries in 1962. People's Liberation Army (PLA) of China swiftly invaded Arunachal and chased retreating army of India up to the bank of Brahmaputra River in Assam, inflicting a humiliating defeat to India. But China, in the face of international criticism, soon withdrew troops from all the occupied territory.
A new challenge
The new vertical atlas of China issued by the Hunan Map Publishing House has no doubt threw a new challenge to India, already perturbed by recent report of intrusion of Chinese troops 11 km inside Indian territory in Ladakh and strategically important  Chumbi valley of its vassal state Bhutan. But Indian foreign officials in Delhi were overtly unconcerned at the new map of China. They were reported to have said such a "cartographic depiction does not change the reality on the ground…The fact that Arunachal Pradesh is an integral and inalienable part of India has been clearly conveyed to the Chinese authorities.
The map also depicts China's sea boundary in the South China Sea, through which $5.3trillion worth of goods are traded every year, and extending its northern land border to Meghalaya, Assam and Myanmar.
Defending the new map, its publisher said the map has important meaning for promoting citizens' better understanding of and maintaining our maritime rights and territorial integrity. China's Foreign office spokeswoman Hua Chunying, however, tried to play down the significance of the new map. "The goal is to serve the Chinese public. As for the intentions, I think there is no need to make too much of any association here," she said at a news briefing.
Speaking at the function marking the anniversary of Panchsheela Treaty Chinese President said hegemonism or militarism is not in the genes of the Chinese. China neither interferes in other country's internal affairs nor imposes its will on others. It will never seek hegemony, no matter how strong it may be. His statement was viewed as directed at India without naming it.
In another meeting attended by foreign diplomats, civil and army officials the President laid importance on strengthening the country's frontier defences on land and sea. China should bear in mind its history "as a victim of foreign aggression… The country's weakness in the past allowed others to bully us." However, he did not explain if the new map is linked with strengthening China's frontier defences.
The mapped area
One of the 29 states of India, Arunachal lies in the far northeast of the country. A state of 32,333 sq miles area, Arunachal is mostly mountainous with the Himalayan ranges running to the south. Nearly 14 lakh population is considered Tibeto-Burman; 34 percent Hindus, 18 percent Christians, 13 percent Buddhist and about 2 percent Muslims.  Residents of the state capital Itanagar led by student leaders protested the new map of China. The protestors alleged China claims Arunachal for its hydropower potentials.
India planned to generate 27,000 MW power from hydel projects. India has already deployed heavy army and paramilitary forces because of Chinese threat and presence of insurgent groups of Assam and Nagaland. Fighting for independence from India insurgent groups have bases in the jungles of Arunachal. Of late, the Indian outlawed Maoists also reportedly set up bases prompting heavy security measures. None can entry into Arunachal without special permit.
Source: Weekly Holiday