NATO turns 70. Will it make 71?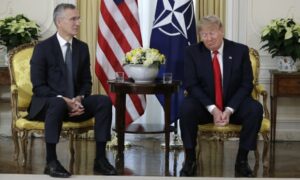 Donald Trump grimaces during a meeting with Nato's secretary general, Jens Stoltenberg, in central London. Photograph: Evan Vucci/AP
The World <newsroom@theworld.org>    3 December 2019

French President Emmanuel Macron described NATO as "brain dead" in the run-up to a meeting in London that was supposed to be a 70th anniversary celebration. Then, US President Donald Trump launched an angry broadside against his European allies, singling out Macron for his "very nasty" comments on the alliance and Germany's shortfall on funding commitments.
This kind of talk isn't new from Trump. The attack echoed a similar volley of abuse the president lobbed ahead of NATO's July 2018 summit. And it will likely add to the growing doubts over the future of the bloc.
Underlining the breadth of strife in a transatlantic bloc hailed by its backers as the most successful military alliance in history, Trump demanded that Europe pay more for defense and also make concessions to US interests on trade.
Also: Macron says NATO is experiencing 'brain death.' What's the future of the alliance?
And: Don't blame Turkey for NATO's woes
And: "The very purpose of NATO is being questioned"