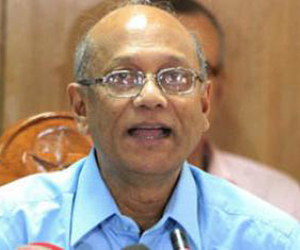 Education Minister Nurul Islam Nahid has  said that quality of education has improved because of right steps taken by the government.
"Our main challenge has been to enhance quality of education. It is improving every year," Nahid remarked while speaking at a news conference at his ministry on Saturday afternoon.
The press conference was arranged on the occasion of publication of the results of SSC and its equivalent examinations held this year.
Despite gradual increase in pass rate in public examinations in recent years, many wondered if this reflects improvement in quality of education.
The minister said the result of the examinations were published in due time, despite disruptions of exams by some quarters.
Nahid said there are enough seats in colleges and other similar institutions across the country for the successful SSC students.
He, however, said the authorities will take special arrangement for the successful students if they fail to take admission in colleges for lack of seats.
In this year's SSC and equivalent examinations, a total of 13,03,331 students out of 14,26,923 came out successful. Some 1,42,276 students achieved the highest grade point average (GPA)-5.
The success rate of the public examination is 91.34 percent, up by 2.31 percent than that of previous year.
Nahid attributed impressive pass rate to an increase in the number of meritorious students.
Nahid handed over a copy of the results to Prime Minister Sheikh Hasina at her official residence Ganobhaban around 10:30am.
The SSC examinations were held under creative question papers except Bangla 2nd paper, English 1st and 2nd papers and Mathematics.
Source: UNBConnect