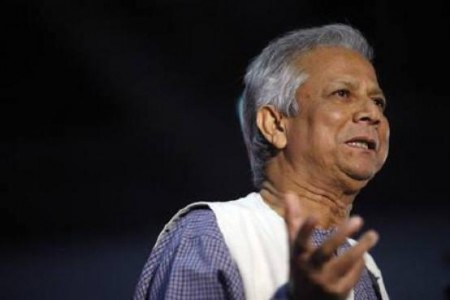 The National Board of Revenue (NBR) sent Muhammad Yunus a letter to meet the tax commissioner of Tax Zone-6.
The letter was delivered at the Yunus Centre on March 29.
The NBR says that Yunus has filed court cases regarding this but they want it to be resolved by discussing with him.
The commissioner of Tax Zone-6 Meftah Uddin said, "It's nothing special. Muhammad Yunus is an honourable taxpayer. He has some dues. He moved over the court over this. But we just want to resolve this matter by talking with him."
The assigned commissioner said that the dues are not from Yunus' corporation or institutions. These are personal tax revenues of him.
The Nobel laureate, Muhammad Yunus had received honorariums and prize money in various events worldwide. The unpaid taxes are regarding those revenues, according to commissioner Meftah.
"Yunus does not want to pay the taxes on those earnings. NBR denied his application for pardon of these revenues. He went to the court for this."
NBR commissioner did not want to mention the amount of the dues. But tax officials said that the net amount is around Tk.138.525 million. Dr Yunus received notifications and reminders from NBR for the last 3 years regarding this matter.
Yunus Centre didn't comment about the NBR summon. However, one of the employees in Yunus Center said that Dr. Yunus is currently out of the country. A statement from Yunus Centre will be issued soon.
Source: Ittefaq