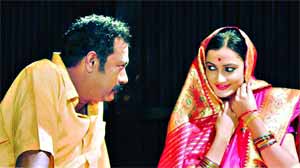 Actors Mousumi, Shormi Mala and Titas Zia have won the National Film Award 2013 while 'Mrittika Maya' has been chosen as the best movie.
The information ministry announced the award winners in a media statement on Tuesday.
This year, the government has selected 24 artistes and others for the award in recognition of their outstanding contribution to the film industry.
Titas and Shormi bagged the awards for their roles in Mrittika Maya while Mousumi got the nod for her performance in 'Devdas'.
Gazi Rakayet and Faridur Reza Sagor's 'Mrittika Maya' won awards in 17 categories including best director, best music director, best supporting actor, best actor in negative role, best story, best script writer and best art.
Gazi Rakayet and Titash Zia were awarded the 'Best Film Director' and 'Best Actor' awards respectively for their roles in "Mrittika Maya".
Veteran actor Raisul Islam Asad and Arpana won the 'Best Side Actor' awards for their role in "Mrittika Maya".
On the other hand, prominent actor Mamunur Rashid won the title of 'Best Villain' award for the same film.
"Mrittika Maya," a movie about the heartbreaking life of an old potter Khirmohon .  He  is  the owner of his own pottery house and a banyan tree. His two sons Satten and Nikhil stay in the city and prefer urban life. They have no interest in their father's business and want to sell up his life's work for financial gain. The silver lining in Khirmohon's life is his granddaughter Poddo, who is an eye catching dusky beauty. They stay in the pottery house with another person named Boishakh, who was adopted by Khirmohon when he was just a mere child. Boishakh is a passionate character, who is loyal to Khirmohon and is more interested in keeping the pottery business afloat then Khirmohon's own sons. There is a spark between Poddo and Boishakh, but it is not expressed. The story moves forward with Boishakh trying to protect the business from going into ruins by unwanted invaders and village politics.
Meanwhile, Swachchha won the 'Best Child Actress' for her role in "Eki Britte" while Syeda Ahida Sabrina won a special award for the film "Ontardhan".
AK Azad was honored with 'Best Music Director' title while Chandan Sinha won the 'Best Male Singer' award in their role in "Purnadoirghya Prem Kahini".
The popular singers Runa Laila and Sabina Yasmin jointly won the 'Best Female Singer' award for the film "Debdas".
Gazi Rakayet was honored with the title of best storywriter, best dialogue and best playwright for "Mrittika Maya".
Best song writer and best lyricist was Kabir Bakul and Koushik Hossain Tapas respectively.
Best editor was Shariful Islam Rasel and the best art director was Uttam Guha.
Saiful Islam Badal was awarded best photographer award.
Best sound engineer was Kazi Selim; best costume designer was Wahida Mallic Joly; and best make-up-man was Ali Babul.
The prominent actress Sarah Begum Kabari was honored with a lifetime achievement award in the national film award.
On  the  occasion,  actress and former MP Sarah Begum Kabari has been selected for lifetime achievement award.
Sarah Afrin's 'Shunety Ki Pao' has been awarded for the best documentary film.
Source: Weekly Holiday