Shamsuddin Ahmed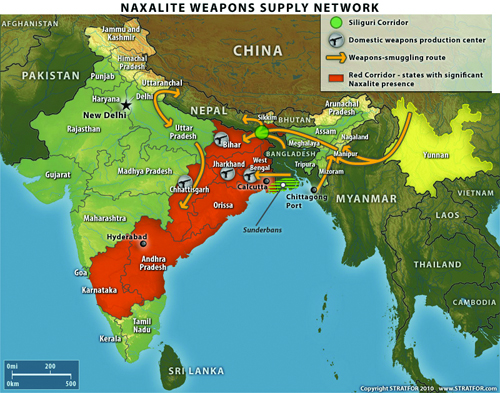 The Narendra Modi-led BJP government in India faces daunting challenges from the Indian Maoist insurgency and long running secessionist movements in northeastern states and Kashmir. Analysts say prospect of ending the insurgency is remote. Rather it is likely to escalate further with the government policy of "zero tolerance" to anti-government terror activities as enunciated in BJP election manifesto.
In fact, the Maoist offensive has been on the rise since the end of general elections in May. A paramilitary CRPF officer was gunned down in Jharkhand on July 4. Earlier, about a score security personnel were killed in deadly Maoist attacks in Sukma and Bijapur districts adjacent to Chhattisgarh state known as the stronghold of the Maoists.
The attacks were part of TCOC (tactical counter offensive campaign) launched by the Maoists to assert their presence.  However, presently there is a lull in offensive activities of the red rebels because of monsoon, say the security officials.
Govt. taking a hard line
Following the deadly attacks on security forces in Chhattisgarh, Delhi sent 3000 COBRA commando troops to tackle the Maoists. Home Minister Rajnath Singh dashed to Chhattisgarh and held meeting with state's chief minister Ramon Singh. They were believed to have discussed the number and scale of counter measures in days to come to contain the Maoist movement.
Will the force and violence be able to solve the problems that have been brewing since independence of the country? Many say "no". Maoist problem, a legacy of Naxalite movement of 60s died down with the death of its leader Charu Majumdar, was renewed in 2004 with regrouping of hardcore followers of Mao Tse Tung. They launched Communist Party of India (CPI-Maoist) with the objective of establishing communist rule by 2050. Although outlawed soon, CPI-Maoist has quickly spread its activities in 22 of the 29 States of India posing the gravest threat to the country's internal security. More than 2.5 lakh paramilitary forces deployed by the previous UPA government to tame the Maoists proved futile. The Maoists succeeded in establishing more than a dozen free zones, free from government control, in the red corridor.
The number of real Maoist fighters is estimated at a mere 3,000. The Maoists have, however, innumerous followers, supporters and sympathizers among deprived and poor adivasis, tribal and low caste Hindus and also urban educated elites. Maoist fighters have so far avoided frontal fight with government forces. Security forces claimed of many encounters with the Maoists, which were later proved fake. Instances are many in which innocent tribal people, including women and children, suspected as Maoist activists died in action of security forces. Such incidents have no doubt alienated tribal population. This way the government has disinherited the people living in the Red Corridor.
Maoists active in Arunachal
In Assam, the Maoists occupied the spaces vacated by pro-talks faction of ULFA. They have extended bases in Arunachal bordering Tibet raising anxiety of the government.
When Maoist threat looms large in many "mainland" states, the problem of secessionist movement in the Northeast and Kashmir is perennial. A sustained strategy to quell militancy in the Northeast would require sagacity, something the armchair experts in Delhi probably lacking, said Telegraph of Kolkata in a recent report.  The daily viewed that being new to handling the sensitivities of the Northeast, both Rajnath Singh as Home Minister and Narendra Modi as Prime Minister, despite their sincerity, could find the going tough in tackling the regional problems. Economic development of the region, for instance, has to be pursued without destabilizing the fragile local-outsider equilibrium.
BJP being a Hindutva party, sensitivity to Muslim and Christian minority sentiments is an essential element to any counter-insurgency effort. Almost every one of the seven states in the Northeast has experienced a higher population growth than in India as a whole. Local residents tend to blame migration from Bangladesh and Nepal, though large families are common in ng support for secessionist groups in the region. Paresh Barua, the military chief of the ULFA, is said to be under Chinese protection somewhere near Ruili on China's border with Myanmar. It is said the active insurgent groups have about a dozen camps along Myanmar border where new recruits are trained.
The National Socialist Council of Nagaland's Isak-Muivah faction, the most powerful secessionist group in Northeast India, has also re-established contact with China, said former Home Secretary G.K.  Pillai. China has denied all this, saying in a statement that it follows a policy of not interfering in the affairs of other countries.
Nagaland may rejoin war
If Muivah, 78, leader of National Socialist Council of Nagaland dies or retires without a settlement being reached, the group, which has rearmed during the 14 years since the cease-fire, could go back to war under a new leadership, a Naga activist with links to the group, told media men couple of months ago.
There will be many number of voices from the Northeast that say, in sum, that the peoples of the region do not want to be tutored or dictated to by the elite in Delhi about what they need and what they do not. We need to respect our own people, culturally different from other parts of India, and evolve a system where the local people have their own rights and voice.
The above map was made available to media persons by the Indian security forces. Bangladesh has strongly denied import of arms for Indian insurgents through Chittagong Port or any arms are supplied to them through Bangladesh territory.
Source: Weekly Holiday