Mir Quasem Ali has paid with his life for torturing freedom fighters to death as Chittagong's Al-Badr commander during Bangladesh's Liberation War.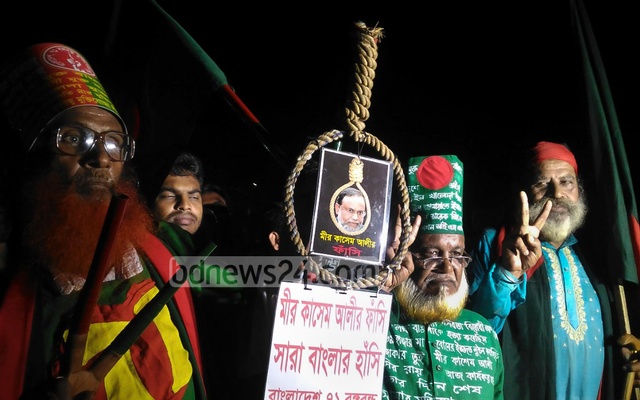 The top leader of the Jamaat-e-Islami was hanged by the neck at Gazipur's Kashimpur jail on Saturday night, Home Minister Asaduzzaman Khan Kamal told bdnews24.com.
The sentence was executed at 10:30pm, said Senior Jail Superintendent Prasanta Kumar Banik.
Mir Quasem, Jamaat's chief financier, did not seek presidential pardon after the review petition against his death sentence was rejected last week.
The 64-year-old is the fifth from his party to walk the gallows for crimes against humanity during the nine-month war to secede from Pakistan.
The Al-Badr was one of several vigilante militias the Jamaat's student wing to assist the Pakistan Army in committing genocide, mass killing, rape, arson, loot, forced exile of Bengalis who supported the freedom struggle.
Three ambulances entered the prison gate through the police and RAB cordon around 9:30pm, half hour before the deputy commissioner and the civil surgeon entered the massive prison.
Before that, around 7pm, Inspector General of Prisons (IGP) Brig Gen Syed Iftekhar Uddin walked in.
Journalists, who would crowd outside Dhaka Central Jail, now relocated from Old Dhaka to Keraniganj, during the previous five hangings, had been pushed away at least half kilometre from the entrance.
"We don't feel there is any risk because of execution. But still the security has been rearranged after taking all matters into consideration." said the district's Superintendent of Police (SP) Harun-ur-Rashid.
A prison official said Mir Quasem was escorted out of his condemned cell, bathed and given the chance to repent in the presence of a Muslim cleric.
There was no doubt that Mir Quasem commanded the Al-Badr in Chittagong, an appeals bench had said upholding his death penalty for the killing of freedom fighter Jashim Uddin Ahmed in 1971.
The adolescent fighter was abducted on Nov 8 and tortured until he died at Dalim Hotel, one of Al-Badr's several torture cells in the city.
Jamaat-e-Islami Executive Council member Mir Quasem Ali was arrested on Sunday from Naya Diganta newspaper office in the capital on charges of crimes against humanity during the 1971 War of Independence. Photo: bdnews24.com/ Dhaka, June 17, 2012
In 2014, the second International Crimes Tribunal sentenced him to death after finding him guilty in eight out of 14 charges brought against him by the prosecution.
The judges sentenced Mir Quasem to death on two charges for killing Jashim, Ranjit Das and Tuntun Sen at the Dalim Hotel which he used as a "death factory".
He was given total 72 years in prison on eight other charges of torture, abduction and confinement.
Mir Quasem appealed to overturn the verdict while his defence claimed he was in capital Dhaka when the atrocities were committed.
The Supreme Court bench headed by Chief Justice SK Sinha acquitted him of three more charges including the killings of Tuntun and Ranjit reducing his prison sentence to 51 years.
He filed a review petition as he was still to die for the murder of Jashim.
Mir Quasem's review petition filed took the longest to dispose, almost twice the time taken to resolve pleas filed by other war criminals before him.
Source: bdnews24