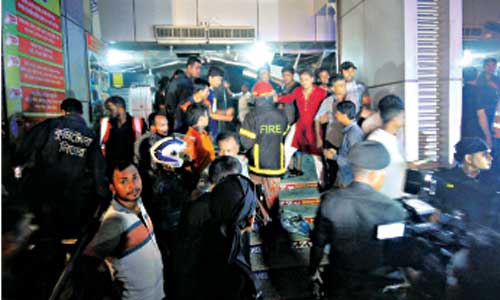 At least six people were killed and over 50 were injured as a lift of a high-rise market at Uttara in the capital crashed and subsequently the market caught fire Friday evening.
'We got the news of deaths of six people and injury of over 50 people in the Tropical Alauddin Tower Shopping Complex lift crash and fire,' Dhaka Metropolitan Police Uttara zone deputy commissioner Bidhan Chandra Tripura said.
'The identity of the deceased could not be ascertained immediately as we are still in operation. The injured ones took treatment at different hospitals including Dhaka Medical College Hospital,' he said at 10:30pm.
The deputy commissioner said that the lift of the high-rise market building fell down with a big bang on the basement as its wire tore at about 6:15pm and caught fire that engulfed the basements.
Many were injured as there was a stampede for exit when panicked shoppers and shopkeepers began to come out of the market following the big bang and a shake, police officials said.
Local people and police said that many were injured as glasses of the building were broken.
Fire service and civil defence control room duty officer Mahmudul Haque said the market caught fire at about 6:15pm and 13 fire fighting units rushed the spot.
The fire was brought under control at about 7:30pm but the reason of the fire could not be established immediately, he said.
Dhaka Medical College Hospital sources said that three people with burn injuries – Mahmudul Hasan, 40, his daughter Maisha, 11, and 8-month-old son Muntasir – were admitted to the burn unit of the hospital.
'Hasan was admitted to the hospital with 80 per cent burn while Maisha 55 per cent and Muntasir with 23 per cent burn injury,' said burn unit residential medical officer Partha Shankar Paul.
He said that the condition of all the three were critical.
The three had joined an ifter party arranged at the basement of the shopping complex, shopkeepers said.
Source: New Age