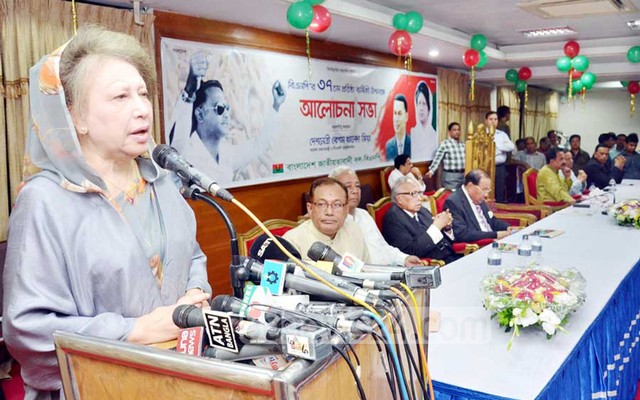 BNP Chairperson Khaleda Zia has promised not to pursue a 'politics of revenge' against the Awami League if her party came to power.
"There is nothing to fear. You don't need to be afraid, we won't pursue vengeful politics," she said, referring to the ruling party at a programme on Tuesday.
"No revenge will be taken against anyone."
She again called for holding fresh polls after dissolving the present Election Commission. "We only want a free and fair election."
Khaleda called for national unity for the country's progress.
"Governments will come and go. But there are only two parties – the BNP and the Awami League. So, power will revolve around them, sometime it will be the Awami League and sometime the BNP.
"Let us do politics for development and national unity. Stop the abductions, murders, cases and attacks, and organise a fair election to help the country progress," she urged the ruling party.
She made the remarks at a discussion held to mark the BNP's 37th founding anniversary at the Institution of Diploma Engineers auditorium in Dhaka's Kakrail.
Military ruler Ziaur Rahman founded the Bangladesh Nationalist Party on Aug 21, 1978.
The party observed the day with a string of programmes that included the hoisting of the national and party flags atop its Naya Paltan headquarters on Tuesday morning.
The BNP chief, along with senior leaders, paid their respects to the late party founder by laying flowers at his grave at Sher-e-Bangla Nagar around 11am.
Khaleda joined the discussion later in the evening.
'BCL, Juba League licensed to beat people'
The government has given the Bangladesh Chhatra League and Awami Juba League the licence to beat up people whenever they liked, alleged the BNP chief.
"The Chhatra League and the Juba League members are assaulting teachers and women. They are also beating up doctors, engineers and police whenever they want. They are attacking everyone.
"But none of them have been arrested or punished. Nothing has been done so far. Such incidents would not have taken place if they were punished," she said.
Her jab at the ruling party's student and youth wings came after BCL activists on Sunday assaulted some Shahjalal University of Science and Technology teachers who were demonstrating for the vice-chancellor's resignation.
Khaleda also alleged that police had been given told to lodge cases against the opposition.
She said the ruling Awami League had withdrawn at least 75,000 cases against its chief and other leaders and activists after they came to power.
"Their leader (Sheikh Hasina) had 15 cases against her. She became a saint when she secured acquittal from the cases after coming to power."
Bangladesh risked being a failed state if such outrageous activities continued, Khaleda said.
Source: Bd news24