ACC tracks him after verifying travel papers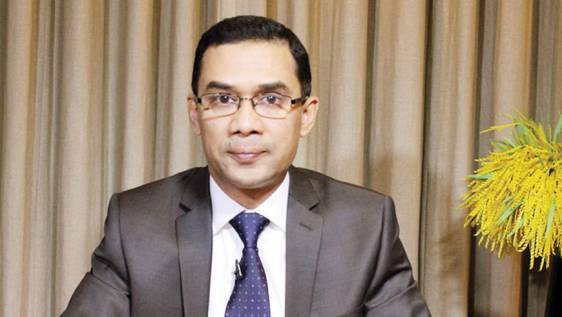 Recently retired special judge Motaher Hossain who acquitted BNP Senior Vice-Chairman Tarique Rahman from a money laundering case is now staying in Malaysia, an ACC official said.
The anti-graft body had launched a probe against Motaher Hossain following a "specific allegation" scrutinised by three-member ACC team that found evidences of irregularity.
"The commission came to know that the judge left the country after 53 days of delivering the judgement on the money laundering case. He left the country for Malaysia on January 8," ACC Deputy Director and Inquiry Officer of the case Harun-ur-Rashid told reporters yesterday.
ACC sources said the commission got the information on his current position after scrutinising his travel documents.
The allegations against the judge are amassing illegal wealth, abusing judicial power, earning huge wealth contradictory to his known source of income and amassing movable and immovable property in his and others' names, the ACC Commissioner M Shahabuddin said.
The ACC imposed a bar on foreign trips of the former judge. But the judge had left the country before the ACC restricted his departure from the country.
According to ACC document, the judge's son studies in London. Motahar bought a house in London. He also bought two apartments in Dhanmondi and has a lot of land in his village Natore.
The inquiry officer briefed the reporters yesterday after completion of questioning two of the stenographers from the speedy trial tribunal 4 and Special Judge's Court 3 in connection with the inquiry into the "illegal" wealth of the retired judge.
The commission has taken statements from the two stenographers – M Abu Hasan of speedy trial tribunal 4 and M Nurul Islam of Special Judge's Court 3.
Meanwhile, the commission yesterday served notices to the driver and bodyguard of the former judge to question them in connection with the alleged irregularity.
ACC Deputy Director Harun-ur-Rashid served notices to the judge's bodyguard Badal Dewan and driver Shohrab Hossain to appear before the commission on January 27 to give statements related to the inquiry.
Judge Motaher Hossain, on November 17 acquitted Tarique Rahman and sentenced his friend Giasuddin
Al Mamun to seven years imprisonment and fined him Tk40crore in a money laundering case involving Tk20.41 crore.
The judgment said Tarique was acquitted from charges because he had mentioned the amount in his wealth submitted to the ACC.
The ACC filed the money laundering case on October 26, 2009 on charge of siphoning off Tk204.1m to Singapore between 2003 and 2007.
The High Court on Sunday ordered BNP Senior Vice-Chairman Tarique Rahman to surrender to the trial court in the money laundering case.
The High Court accepted the petition lodged by the ACC that appealed against the lower court verdict that acquitted Tarique in the money laundering case.
Source: Dhaka Tribune