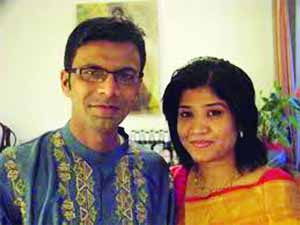 Although long three years have elapsed, the investigation agency still gropes in the dark over the detection of the assailants of journalist couple Sagar-Runi murder case.
After visiting the slain journalist couple's residence following the killing, on February 11, 2012, then Home Minister advocate Shahara Khatun had said that the killers would be hunted down within 48 hours, but nothing happened.
A few days later, then Inspector General of Police Hasam Mahmud Khandker in a crowded press briefing at Police Headquarters claimed that there was a marked progress in the investigation into the case, which was filed with Sher-e-Banglanagar Police Station on February 11, 2012.
A US laboratory, meanwhile, has confirmed the presence of two men through DNA tests after scrutinising the evidence collected from the place of occurrence as supplied by the designated investigation agency.
DNA (Deoxyribonucleic acid) is a molecule that encodes the genetic instructions used in the development and functioning of all known living organisms and many viruses.
On February 11, 2012, Maasranga Television News Editor Sagar Sarowar and his wife ATN Bangla senior reporter Meherun Runi were found dead at their rented apartment in the city's West Razabazar area. Sagar had suffered 28 stab wounds while Runi five before they breathed their last.
Contacted, Assistant Director (investigation) of Rapid Action Battalion (Rab), ASP Wares Ali Miea, also the investigation officer of the case, told newsmen that the US Lab after scrutinising the DNA sample have confirmed the presence of two men at their multistoried apartment during the gruesome murder.
"We've supplied the DNA samples of 21 suspects after primary investigation. But no one of those were matched with the DNA samples of the two suspected males," he said.
With the DNA test results, he said, now it could be suspected that the two men were involved in the killing. "If the duo suspects are caught, the mystery behind the killing will be debunked," Wares hoped.
Replying to a question, ASP Wares said seven suspected people are now in custody in connection with the brutal killing. They are Rafiqul Islam, Bakul Miah, Masum Mintu, Sayeed, Kamrul Hasan alias Arun, security guard Polash Rudra Paul, and Kabir alias Enamul. Another suspect, Tanvirul Islam, who was arrested in connection with the killing, is now on bail, he added.
Rab initiated the investigation into the murder following a High Court order on April 14 in 2003. Earlier, the Detective Branch of Dhaka Metropolitan Police investigated the case.
Source: Weekly Holiday