A Kolkata-based skills developer said to be India's biggest is sending 70 of its certified trainers to Bangladesh this year.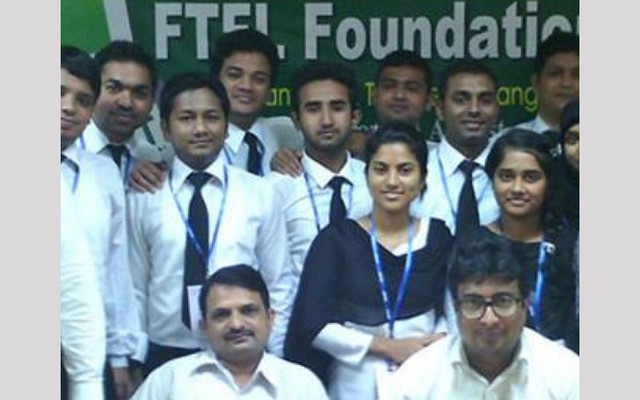 Globsyn Skiills, a part of the group that runs the famed Globsyn Business School, says Bangladesh is its first major overseas venture.
"We have trained thousands of students in India and made them employable. Now we are joining Ernst & Young and Bangladesh Computer Council in a major skills development thrust funded by the World Bank," said Globsyn Skills Managing Director Rahul Dasgupta.
He said this is part of Globsyn's overseas plan to send at least 100 certified skills trainers to neighbouring countries as part of Prime Minister Narendra Modi's drive to make India a skills resource hub in South Asia
Photo: Globsyn Skiills
Photo: Globsyn Skiills
"We have closely worked with the Indian skill development ministry and concerned departments to develop skills in our country. Now our PM wants us to do the same in the neighbourhood and Bangladesh is our first overseas destination," said Dasgupta.
He said the company has selected Bangladesh because it has scores of Bengali-speaking teachers on its rolls who can work very easily in Bangladesh.
"Our teachers love Bangladesh. The students are so keen to learn and so hard-working," said the Globsyn Skills managing director.
The Globsyn trainers will be deputed to colleges in Bangladesh to impart training in IT, ITES, communication (including English capabilities), banking, digital marketing, retail, beauty and wellness, tourism and hospitality and many other service sectors.
Photo: Globsyn Skiills
Photo: Globsyn Skiills
Since it was founded in 1997, Globsyn has pioneered changes in Indian education and skills development systems with its knowledge-finishing school system that helps make students more employable.
Dasgupta said 70 of the 100 trainers it is sending abroad this year will go to Bangladesh – the rest to neighbouring countries like Sri Lanka.
"We are also exploring possibilities of skills development in Myanmar where I am told there is a great scope for it," Dasgupta said.
Source: bdnews24