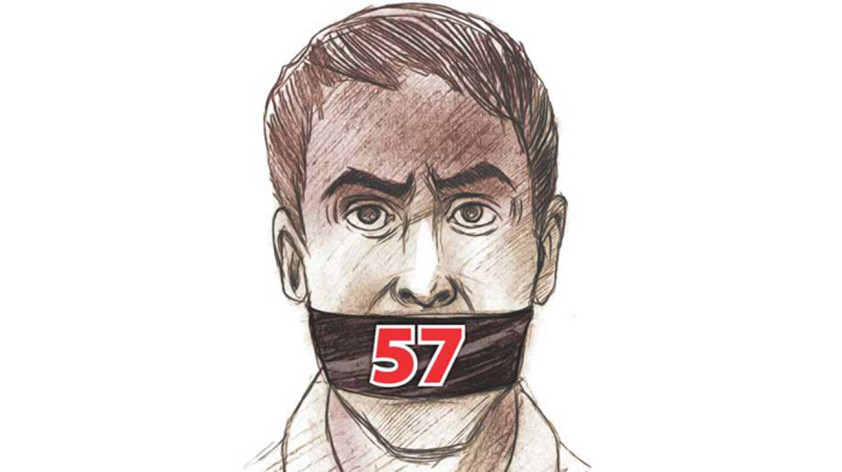 Section 57 of Information and Communication Technology (ICT) Act-2006 goes against people's right to freedom of expression and free speech, say legal experts.
Particularly, they added, the section contains vague wordings, allowing its misuse against newsmen and social media users.
Though rights activists have been critical from the beginning, debate over section 57 and demand for its repeal intensified following the arrest of journalist Probir Sikdar.
The veteran journalist was arrested and sent to jail after he posted on Facebook expressing fear that his life was in danger and that LGRD Minister Khandaker Mosharraf Hossain, businessman Moosa bin Shamser and fugitive war criminal Abul Kalam Azad would be responsible if he were killed.
Following the post, an Awami League leader sued Probir in Faridpur under the ICT act for "tarnishing the image" of the minister.
Probir was released on bail on Tuesday but he had to endure mental torture in custody apart from physical sufferings. He had lost a leg and the use of one hand in a 2001 attack for his write-ups.
The arrest sparked huge protests on the streets and also in the social media. Legal experts and rights activists say the section of the Act was "misused" against Probir.
A rough translation of section 57 (1) says: "If any person deliberately publishes or transmits or causes to be published or transmitted in the website or in any other electronic form any material which is false and obscene and if anyone sees, hears or reads it having regard to all relevant circumstances, its effect is such as to influence the reader to become dishonest or corrupt, or causes to deteriorate or creates possibility to deteriorate law and order, prejudice the image of the State or person or causes to hurt or may hurt religious belief or instigate against any person or organisation, then this activity will be regarded as an offence."
Contacted, eminent rights activist Sultana Kamal said section 57 is so vague that law enforcers can interpret it as they will to arrest anyone anytime.
She also said, "The act is contradictory with the constitution because section 57 robs us of our right to freedom of speech. So we want its repeal."
If the government wants to keep it, there should be rules of procedure specifying how the act would be applied. Until then, the law should not be enforced, she added.
On a similar note, former law minister Shafique Ahmed said as the ministry concerned, the ICT ministry, has yet to enact the rules of procedure, "there is a possibility that the law will be misused."
Shafique Ahmed, also an eminent lawyer of the Supreme Court, said, "In the absence of the rules of procedure, the law should be applied cautiously."
The law has been "wrongly applied" in the case of Probir Sikdar, he observed.
Jyotirmoy Barua, a Supreme Court lawyer, said the section speaks of damaging the "image of person and the state". But nowhere in the law, has "the image of the state" been defined.
Besides, depending on the social status, "image" might vary from person to person, he said, asking how the "image of a person" and the "image of the state" can come on an equal footing.
He further said it has not specified exactly what may tarnish the "image of the state or person". Similarly, it doesn't say what would amount to hurting one's religious belief.
The Indian Supreme Court in March this year struck down almost a similar section, terming it unconstitutional. The court observed section 66A of Information Technology Act hit at the root of liberty and freedom of expression, two cardinal pillars of democracy.
Section 66A read: "Any person who sends by any means of a computer resource any information that is grossly offensive or has a menacing character; or any information which he knows to be false, but for the purpose of causing annoyance, inconvenience, danger, obstruction, insult shall be punishable with imprisonment for a term which may extend to three years and with fine."
The section had been widely misused by police in India to arrest innocent persons for posting critical comments about social and political issues and political leaders on social networking sites, according to media reports.
Indian Supreme Court said the section has to be erased from the law books as it has gone much beyond the reasonable restrictions put by the constitution on freedom of speech.
The Indian court added the section was vaguely worded and allowed its misuse by police.
"In the light of our constitution and judgment of the Indian Supreme Court, section 57 is unconstitutional and it must be repealed," Bangladesh Supreme Court lawyer Tanjib-ul Alam said.
"It also violates the rights enshrined in article 39 of our constitution."
Article 39 ensures "the right of every citizen to freedom of speech and expression". It also guarantees freedom of the press.
Tanjib also said section 57 has a chilling effect on people's right to freedom of expression. "Now people will think twice before writing anything on Facebook and always be fearful that they might land in jail for their comments online," he added.
Another legal expert, Shahdeen Malik, said the arrest of Probir Sikdar is a "clear indication" how the law can be abused.
Referring to the Indian Supreme Court's verdict on section 66A, the eminent jurist said section 57 has to be scrapped.
The ICT law was enacted in 2006 by the then BNP-Jamaat government.
Before its 2013 amendment, maximum punishment for offences under the section was 10 years' imprisonment and a fine of Tk 1 crore, he said.
Besides, police had to seek permission from the authorities concerned to file a case and arrest any person under the law, he added.
After the amendment, the maximum jail term was raised to 14 years. And law enforcers were empowered to make arrest without a warrant.
Secretary General of Bangladesh Federal Union of Journalists (BFUJ) Abdul Jalil Bhuyian said section 57 should be revoked as it is contradictory to people's fundamental rights.
He thinks it has been enacted for the protection of the rulers, not for people's welfare.
The journalist leader said even if the government had enacted the law with good intention, law enforcers will misuse it as in the case of Probir Sikdar.
Baki Billah, a blogger and former Chhatra Union leader, believes section 57 is meant to control opinions expressed in the social media. It goes against the basic principles of democracy.
Arif Jebtik, another blogger and online activist, said the section should be clarified properly. To fight against online crimes, there has to be a law but not anything like this.
Yesterday, Probir Sikdar at his residence told The Daily Star, "Section 57 is a barrier to free speech. It should be scrapped immediately."
Source: The Daily Star