4 die as clashes, rigging mar polls; allegations of anarchy widespread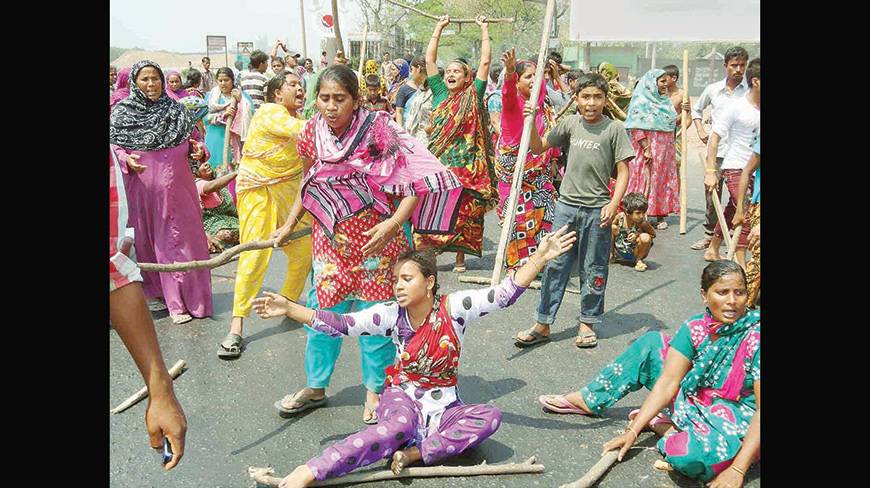 At least four people were killed and scores injured in upazila elections-related violence in four districts yesterday, amid claims from the ruling party ranks and the Election Commission that the fourth phase polls in 91 local bodies have been peaceful.
The BNP on the other hand has brought allegations of widespread anarchy and vote rigging against the ruling party men.
At least 25 candidates, including BNP and JaPa-backed ones and even Awami League rebels, boycotted the polls in around 10 upazilas alleging irregularities and violence and demanded fresh voting.
Voting was suspended in at least 32 polling centers in 11 upazilas after law and order situation in those areas went out of control.
However, voting has been largely peaceful in most places in Sylhet, Rangpur and Rajshahi regions.
In an intra-party clash at a polling centre in Gazaria upazila of Munshiganj, local Awami League leader Samsuddin Prodhan, also chairman of Baluakandi union, was killed.
Supporters of Awami League-backed candidate Amirul Islam and rebel Refayetullah Khan Tota locked into a clash in front of the polling centre set up at the Dr Abdul Gaffar School and College in the morning, leaving Shamsuddin dead on the spot, said Presiding Officer Sarwar Morshed Chowdhury. Voting was postponed at the centre following the skirmish.
In Rajapur upazila of Jhalakathi, an activist of Jubo League – Awami League's youth front – was killed, allegedly by the supporters of the BNP-backed candidate.
In Akhaura upazila of Brahmanbaria, brother of a local BNP leader was killed when Border Guard Bangladesh men opened fire in front of a polling centre to check violence. BGB claimed to have using bullets after miscreants attacked the centre. BNP leader Bahar Mia, however, alleged that BGB opened fire on his brother without any provocation. Local BNP called a half-day hartal in the district protesting the death.
In Barura upazila of Comilla, a rickshaw-puller was killed when rival groups had been exchanging gunshots near the Moheshpur polling centre. Local BNP claimed that rickshaw-puller Monir was an activist of Jubo Dal – BNP's youth front.
In Jibonnagar upazila of Chuadanga, the home of Chief Election Commissioner Kazi Rakibuddin Ahmad, incidents of crude bomb explosion, ballot box snatching, occupying polling centres and attacks on polling agents were reported.
Although the first phase of the local body polls in February did not see any death, at least three people were killed in violence centring the second and third phases of the polls.
Apart from those killed yesterday, two other people were killed in pre-election violence centring the fourth phase.
Meanwhile, incidents of violence, vote rigging, illegal stamping and occupying centers, mostly by ruling men, were reported in more than half of the districts out of the 43 that voted in the fourth phase yesterday.
At a press briefing in the capital in the afternoon, HT Imam, co-chair of the Awami League election steering committee, claimed that compared to the first three phases, this time the elections had been freer, fairer and more peaceful.
"You [journalists] said there had been violence in this phase. But see how nicely and fairly the Election Commission carried out the responsibility in spite of the absence of the chief election commissioner," Imam said.
The BNP, on the other hand, alleged that the ruling party leaders and activists had occupied polling centres and rigged votes in 56 upazilas.
"Army deployment was merely an eyewash. People want to know why the army could not perform its duty," said Salahuddin Ahmed, joint secretary general of BNP, at a press briefing at Nayapaltan.
Acting CEC Abdul Mobarak yesterday expressed satisfaction with what he said was a "peaceful" spell of elections in 91 upazila across the country. However, at a press briefing yesterday, he somewhat reluctantly admitted that there had been stray incidents of violence in some areas.
Following an e-mail from CEC Rakibuddin Ahmad, who is now in the USA on leave, the EC sent a letter to the armed forces on Saturday asking them to play their roles in maintaining law and order in the fourth phase elections.
In a press release issued after yesterday's voting, Bangladeshi poll observer Brotee said the elections had been gradually taking a turn towards the worse and the EC had not been successful in tackling the situation.
Source: Dhaka Tribune