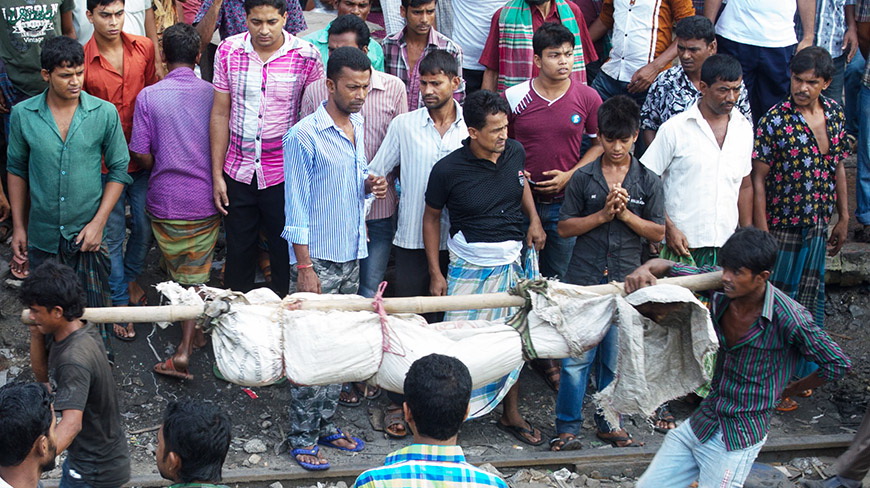 Police have found bodies of four people, believed to be all of the same family, at a house in Dhaka's Keraniganj.
Keraniganj (South) Police Station OC Jamal Uddin said the bodies were seen on Wednesday morning at a first-floor apartment of a six-storey building in Kadampur.
The dead are yet to be identified and it is suspected that they have been strangled to death, said the police officer.
An unclothed body of a man in his 30s was found lying on the floor under a bed with his hands and legs tied and face covered. Beside it, there were bodies of two children, aged around five to seven years.
Body of a saree-clad woman was found wrapped in a blanket. Her legs were tied.
Though it is assumed that the deceased were from the same family, police, however, could not identify them.
Even local residents and the neighbours could not throw much light on their identities.
Police have detained two persons, including the caretaker of the building, for interrogation.
A broken mobile-phone set, a photocopy of a national identity card of one Mominul Islam, a driving licence of one Saju Ahmed, and two rolled notes were found in the house.
Police suspect the notes were used for consuming Yaba drugs or heroin.
Mominul Islam's address has been mentioned as Nilphamari's Domor Upazila in the photocopy of his national identity card found in the house.
Saju is as a resident of Keraniganj as per his driving licence.
It is not yet known whether any of these documents belonged to the deceased.
OC of the Keraniganj police station said the caretaker of the building 'Sohel' informed the police after finding foul smell wafting from the house. Door of the house was open when police went there.
"The house was messed up. We suspect it was a pre-planned crime committed a few days ago," he said.
After inspecting the crime scene, CID Inspector Mohammad Shah Alam Mia said at least six to seven people were involved in the crime and apparently assailants were known to the victims.
A resident of Tegoria Union's ward no. 8 under South Keraniganj police station, Babul Dewan said he rushed to the house in the morning after hearing the news of bodies being recovered there. At that time he interacted with building's caretaker Sohel.
"Sohel told me that a trader rented the house for a monthly rent of Tk 5,000. Two auto-rickshaw drivers Rafique and Akash helped the trader in getting the accommodation," Babul said.
Later Akash and Sohel were handed over to detective police.
Dhaka district's Superintendent of Police Habibur Rahman said, "We have not known identities of the victims. We are interrogating the caretaker of the building and a person who helped the victims in getting the rented accommodation."
Pillows and mattresses in the house were found scattered and the four bodies were lying under a bed.
Though several articles were found scattered in the room, not many furniture were seen, OC Jamaluddin said.
Neighbour Papia Akhthar said the house used to be locked most of the time. Though two months back she had heard that new tenants had moved in, she never had a chance to interact with them.
Babul Dewan said four bodies had been found beside the road in the locality within a span of last three months. Of them, a body was found with a leg chopped off. The body of a girl was found with noose around her neck. The other two victims were strangled.
"As these areas in Keraniganj are isolated, often bodies are found here. Police are looking into all these aspects," he said.
Source: Bd news24