Cultural Correspondent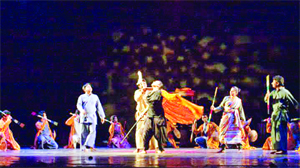 Selim Al Deen Foundation organised a four-day festival at the Bangladesh Shilpakala Academy featuring discussion and staging of plays to pay tributes to the trendsetter playwright Selim Al Deenin in observance of his death anniversary. He died on January 14 in 2008 at the age of 58.
The festival began with a seminar on Tuesday at the National Theatre Hall where Kamaluddin Kabir, assistant professor of theatre department at Jagannath University, presented the keynote paper titled Banglar Geetaranga O Natya. The paper discussed the traditional forms of performing arts of the subcontinent which Selim Al Deen incorporated in his plays.
As a part of  the four-day festival, Dhaka Theatre staged Selim Al Deen's play Dhaboman at National Theatre Hall of Bangladesh Shilpakala Academy on Thursday. Earlier, the troupe members read out parts of Al Deen's famous play Nimajjan and autobiography Dinolipi on Wednesday at the Studio Theatre Hall of the academy.
Dhaka Theatre actors including Shimul Yousuf, Shahiduzzaman Selim, Nasrin Nahar, Rosey Siddiqui, Asaduzzaman Aman, and Esha Yousuf will perform in Dhaboman.
Dhaboman, directed by Shimul Yusuf, narrates the birth of a buffalo calf named Sohrab, which the owner Nahabat treats like his own son but ultimately sacrifices when Sohrab becomes an adult buffalo. But the mastery of Al Deen's construction and language gives this simple storyline an epic quality.
Like the other plays by the root searching dramatist, the beauty of Al Deen's narrative in Dhaboman lies in the spontaneous appearance of traditional cultural heritage, myths and rituals of both communities.
The theatre troupe Swapnadal also staged Tagore's Chitrangada Thursday at the Studio Theatre Hall of BSA as a part of the four-day festival.
In addition to the play, the artistes of the troupe presented a song-choreography dedicating to Al Deen, and will exhibit posters, photographs and videos of the late playwright.
On Wednesday, the troupe staged Deen's play Hargaj. Directed by Zahid Repon, Hargaj revolves around an aid-team that arrives at the tornado-hit village Hargaj in Manikganj.
Swapnadal artistes Sonali Rahman Julie, Robin Dutta, Sajida Islam Parul, Amzad Sharif, Abu Nasser Emon, Hasan Rezaul, Shishir Shikder, Asif Istiar, Mostafizur Rahman along with others acted in the play.
On Monday, Swapnadal organised a seminar at the seminar room of BSA where 17 theatre activists from 17 theatre troupes expressed their respective opinions on the late Nasiruddin Yusuff, Shimul Yusuf, Begumzadi Meherunnisa, and Jhuna Chowdhury spoke at the seminar.
Source: Weekly Holiday