Cultural Correspondent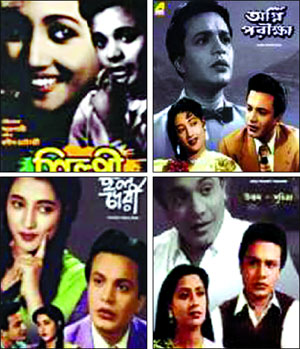 As  the legendary Benagali film actress Suchitra Sen is fighting for her life at a Kolkata hospital, Bangladesh Shilpaka Academy has been organising a ten-day film festival featuring her box-office hit films.
The film screening programme has been organised by the academy to the pay tribute to the 82-year-old legendary Indian actor Suchitra Sen, who has been critically ill for the last few days.
The film festival titled Tribute to Suchitra Sen will screen ten popular films of the Suchitra Sen and Uttam Kumar, the popular duo of Bengali film.
The ten day Uttam-Suchitra film festival began on Wednesday through the screening of Shilpi (1956) at the International Digital Cultural Archive of Bangladesh Shilpakala Academy. Director general of BSA Liaquat Ali Lucky inaugurated the festival yesterday evening after which the film Shilpi was screened.
'We have selected ten major films of the popular duo of Uttam and Suchitra to pay tribute to the legendary actress. In fact, many of our audience requested us to organise such a film screening programme,' said an official of the theatre and film department.
Uttam-Suchitra's Sabar Upare (1955) will be screened at 6:00pm today at the festival.
Consequently, the duo's Sagarika (1956) will be screened aon January 10, Pathe Holo Deri (1957) on January 11, Saptapadi (1961) on January 12, Ekti Raat (1956) on January 13, Harano Sur (1957) on January 14, Sajher Pradeep (1955) on January 15, Sare Chuattur (1953) on January 16 and Ora Thake Odhare (1954) will be screened on January 17 at the same time.
The legendary actress Suchitra Sen was born on April 06 in 1931, in the district of Pabna in Bangladesh.
She was the first Bangali actress to be awarded in an international film festival . She own the Best Actress award for Saat Paake Bandha in the 1963 Moscow film festival) She was awarded with Padma Shri in 1972 by Government of India. In 2012, Sen was conferred West Bengal government's highest award Banga Bibhushan.
Suchitra Sen acted in her first film Shesh Kothaay in 1952, but it was never released. However, the actress had her debut in 1953 where she acted opposite to Uttam Kumar in Sharey Chuattor.
Health Condition
Meanwhile, the ailing yesteryear legendary actress Suchitra Sen's health has improved slightly with the help of physiotherapy, non-invasive ventilation and continuous oxygen therapy, doctors said Thursday morning.
"The medical condition of Suchitra Sen continues to remain stable. Her oxygen saturation has stabilised to some extent with the help of physiotherapy, non-invasive ventilation and continuous oxygen therapy," a medical bulletin issued by the Belle Vue clinic, where Sen was admitted on December 23 following a respiratory tract infection, said.
It said that the 82-year-old's cardiac condition was also satisfactory.
Source: Weekly Holiday