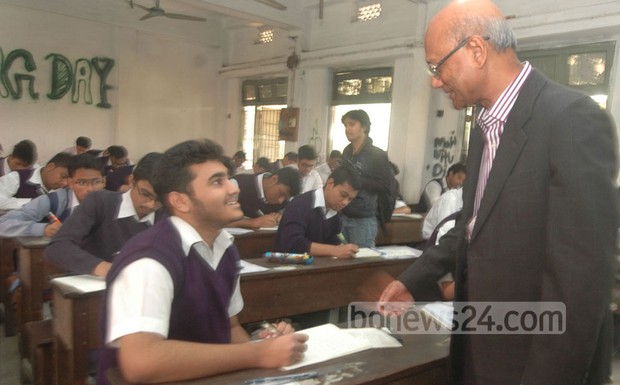 Education Minister Nurul Islam Nahid has said Secondary School Certificate (SSC) and equivalent examinations 'are going on smoothly' amid the ongoing violent BNP-sponsored blockade.
He said this while talking to reporters after visiting the exam centre at Dhaka's Azimpur Govt Girls School and College an hour after the tests began at 9am on Friday.
The minister said: "Exams are going on smoothly across the country. No untoward incident was reported."
The tests, deferred twice in the last five days due to shutdowns called by the BNP-led 20-Party Alliance, started on Friday morning across Bangladesh.
About 1.5 million students took the exams on the first day.
Though there was no BNP-called strike for Friday, its student affiliate Jatiyatabadi Chhatra Dal enforced shutdown in different administrative divisions.
Nahid said: "There was no situation today that can justify shutdown. What sort of politics they, who enforce strike this day, pursue? It aims to disrupt exams."
He urged the BNP-led alliance not to call any shutdown during the exams . "Please don't announce anything that will disrupt holding of the exams. I hope you will act humanly."
The minister claimed no question paper of the SSC and equivalent exams
was leaked this year and urged all 'not to spread confusion and misguide the nation'.
He talked to the guardians waiting outside the Azimpur center.
Several of the guardians expressed their worries and concern for their children due to the agitations.
Nahid said the students who were taking exams this year would lead the
nation 30-40 years later. "Their confidence erodes if exams are deferred due to shutdowns," he added.
Later, the minister visited the Alia Madrasa centre.
Source: Bd news24