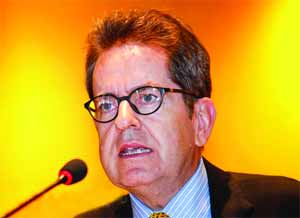 The European Union is ready to offer Bangladesh GSP plus facility to expand the country's exports to the 27 nation market, said Pierre Mayaudon, the new EU ambassador to Bangladesh.
Speaking at his maiden press conference at Hotel Amari in Gulshan in the city,
last week he said Bangladesh may start working to get the generous GSP benefits by enforcing more stringent compliance conditions in export industry, especially in the RMG sector.
He made the suggestion saying Bangladesh will stand to lose GSP (generalised system of preferences) which is a highly duty free import regime of the EU block, and may switch to GSP Plus in the EU market as soon as it becomes a middle-income country.
GSP Plus covers full removal of tariffs on goods, however depending on higher level of labour standards. It is meant for the nations which graduate from the least developed countries status to middle income nation.
The benefits under GSP Plus hinge on the ratification and implementation
of 27 international core conventions on human rights, labour rights, environment and governance, he said.
The envoy said Bangladesh is enjoying a robust and steady economic growth that
could make it a middle-income country by 2021. This would be a fantastic success story just 50 years after the liberation, he mainlined.
But he made it clear that for Bangladesh to get the GSP Plus, it must implement a combination of stringent compliance requirements showing the labour rights and standard of living are on the rise.
As an LDC, Bangladesh now enjoys full duty- and quota-free access under 'everything but arms' category in the EU market.
Mayaudon who served as the deputy head of EU delegation to Pakistan before taking up the new assignment laid emphasis on implementation of the sustainability compact in the apparel sector that brings together the Bangladesh government, the EU, ILO and the USA.
The envoy termed EU-Bangladesh relations as excellent and said a joint commission
will meet early next year and address a range of issues of common interests. He said the EU intends to increase the budget support component of EU-Bangladesh cooperation, which will mean more interaction with the government to achieve quality of education and better performing and transparent public financial management.
He also praised the contributions of Brac and Grameen bank among the thousands of Bangladeshi NGOs, Brac and Grameen Bank and said they have earned a name beyond borders by their contributions especially in combating poverty.
Apart from the apparel sector, he said, the EU will be working with SMEs and in newly emerging sectors like shipbuilding, IT and pharmaceuticals.
Source: Weekly Holiday