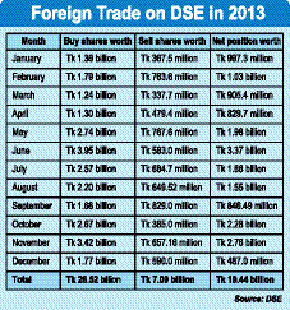 The foreign investment in the Dhaka Stock Exchange (DSE) marked a significant jump in 2013 compared to 2012 as foreign fund managers considered the market lucrative for long-term investment due to low prices of fundamentally strong stocks.
Net investment by foreign investors in 2013 stood at Tk 19.44 billion, which was Tk 7.92 billion in 2012, registering 145 per cent rise over the year, according to statistics from Dhaka Stock Exchange (DSE).
Foreign investors bought shares worth Tk 26.52 billion, while they sold stocks worth Tk 7.09 billion in 2013, the DSE data showed.
In 2012, foreign investors bought shares worth Tk 13.48 billon, while they sold shares worth Tk 5.56 billion.
Foreign fund managers see the Bangladesh stock market as one with potential among the emerging markets, said local stockbrokers who deal with foreign investors.
"Foreign investors injected fresh funds amid positive speculations, as the market performed comparatively better this year than the last three consecutive years," Akther H Sannamat, managing director of Union Capital told The FE.
"Foreign investment marked a significant rise as the investors think that this is the right time to invest in the Bangladesh's stock market and the market is lucrative for long-term investments," said Mr Sannamat, also newly elected vice president of the Bangladesh Merchant Bankers Association (BMBA).
An outcome of an aggressive marketing abroad by stock brokers to bring more foreign investment into Bangladesh also help to significant rise in foreign investments into stocks, he said.
Md Ashaduzaman Riadh, Manager of LankaBangla Securities Ltd said "Foreign fund managers have increased allocation to the frontier markets in 2013 to take the advantage of favorable macro indicators and low correlation of those markets with USA, Europe and emerging markets where alpha generation has become more difficult during prolonged anaemic growth."
"Bangladesh showed outstanding and intact performance in different macro and social indicators this year among the frontier markets, and we have been able to sell the underlying growth stories of Bangladesh," he said.
Foreigners bet on peaceful political transition and subsequent changes in business cycle in Bangladesh from the beginning of 2013. But big concern is that chronic political instability would badly affect corporate profitability of listed companies and make our market relatively expensive among its peers, he said.
"Bangladesh may loss foreign portfolio investment to other relatively cheap markets if the current situation is not ameliorated soon," he added.
Banks shares were the top choice of foreign investors, who also seemed interested in non-banking financial institutions, telecommunications, pharmaceuticals, multinational companies, telecom and IT.
Foreign investment, also known as portfolio investment, accounts for less than 1.0 per cent of the total market capitalisation of the DSE.
Source: Financial Express