The five militants and another suspected attacker killed in a raid on a Gulshan cafe have been buried in Jurain two months and 22 days after the attack on the eatery.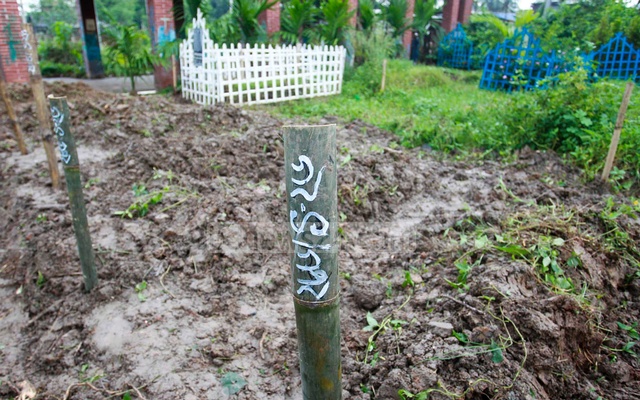 The charitable organisation Anjuman Mufidul Islam took charge of the bodies from the Combined Military Hospital (CMH) and buried them at Jurain Graveyard on Thursday afternoon, officials said.
Dhaka Metropolitan Police Commissioner Asaduzzaman Mia confirmed the bodies were handed over to the charitable organisation as 'unclaimed' ones.
"No one from among their relatives had contacted us to claim the bodies," he told bdnews24.com.
Inter Services Public Relations Directorate (ISPR) Director Rashidul Hasan said the coffins carrying the bodies were handed over to the police at CMH mortuary around 12pm.
Anjuman representatives and DMP counterterrorism unit Inspector Humayun Kabir, who is investigating the Gulshan attack case, were also present.
When contacted for confirmation, Anjuman Executive Director Ilias Ahmed evaded any clear reply to questions posed to him.
"Police give us bodies of unidentified persons and we bury them. They did so today too. We don't know whether they are the bodies from Holey Artisan," he said.
Another Anjuman official, requesting anonymity, said, "Our officials went to CMH with six carriers and two pick-up trucks. The bodies were buried in the afternoon following religious rules."
The father of one of the dead militants told bdnews24.com that police had not told him anything about the matter.
"But I've heard from an Anjuman official that six bodies were buried in Jurain," he said.
The militants killed 20 hostages, including 17 foreigners, in the attack on Holey Artisan Bakery and O' Kitchen at Dhaka's diplomatic district Gulshan on July 1. Two police officers also died in the attack.
Security forces stormed the eatery early the next morning, killing six suspected attackers and freeing 13 hostages. Five of the attackers were identified as militants of the banned outfit Jama'atul Mujahideen Bangladesh.
The sixth one, Saiful Islam Chowkider, a chef of the cafe, assisted the attackers, police have said in the case files.
One of the five militants, Nibras Islam, was a student of North South University. Rohan Ibne Imtiaz studied at BRAC University while Mir Sameh Mubasheer was at Scholastica school. All three were from well-off families.
The two others – Shafiqul Islam Ujjal and Khairuzzaman, were madrasa students from Bogra.
Forensic doctors at Dhaka Medical College Hospital collected and ran tests on samples from the bodies twice. Samples were also sent to the US to know whether they had taken any drugs before the attack.
On Aug 23, DMP Deputy Commissioner Masudur Rahman said police had become certain about their identities through DNA tests.
Source: bdnews24