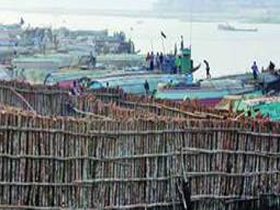 The High Court on Thursday directed the authorities concerned to dismantle a jetty being constructed on the bank of the Meghna River in Ashuganj of Brahmanbaria illegally and remove the construction materials within seven days.
An HC bench comprising Justice Salma Masud Chowdhury and Justice M Habibul Gani also asked the administration to take steps so that no one can occupy and fill the river.
The court directed the deputy commissioner and the police super of Brahmanbaria, the officer-in-charge of Ashuganj Police Station and the Bangladesh Inland Water Transport Authority to submit a progress report to the court in this regard within four weeks.
Besides, the administration has been directed to take action against the local Awami League and BNP leaders involved in constructing the jetty occupying the river bank.
The court also issued a rule upon the government to explain in two weeks as to why the construction of the jetty grabbing the river bank should not be declared illegal.
The High Court came up with the orders and the rule following a writ petition.
Human Rights and Peace for Bangladesh (HRPB) filed the writ on Tuesday after a national daily ran a report titled, 'AL-BNP joint venture: Illegal jetty on Meghna', on Monday.
Source: UNBConnect