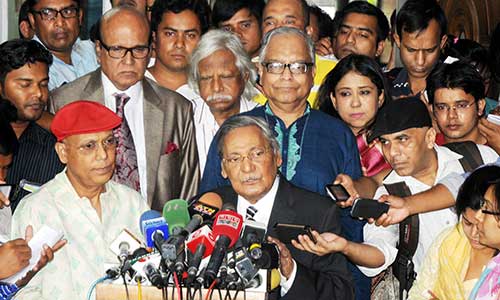 Former Dhaka University vice-chancellor Emajuddin Ahamed on Thursday said that the country had been robbed of democracy.
Addressing a discussion, he also said that human rights and rule of law were now confined to books only and did not exist practically.
He said 30 lakh people had sacrificed their lives during the War of Independence in 1971 for the sake of sovereignty, democracy, rule of law and rights.
The people who made their supreme sacrifice wanted democracy, human rights, developed lifestyle, free thinking, honest life and rule of law but not individual's rule, he said.
He said what would be the reply to them [martyrs] as long as human rights and rule of law could not be established.
He said there could be no reply to the martyrs as long as democracy would not be restored.
Jatiyatabadi Ainjibi Forum, a pro-BNP lawyer organisation, organised the discussion at Supreme Court Bar Association auditorium to mark the Independence Day.
The discussion was followed by a cultural function.
Emajuddin said Bangladesh did not earn independence like India and Pakistan did.
The birth of Bangladesh took place through a revolution, a war for independence, he said adding that the country's birth did not take place through discussion or by grants.
Emajuddin said that Ziaur Rahman on March 27, 1971 declared him as provincial head of the state and declared independence of Bangladesh
He said Zia had revolted and came out with soldiers of the then East Pakistan.
He said that the Bengalis started the struggle for independence when majority party was not allowed to assume the state power and democracy was insulted.
'That was the direct cause of our revolution and liberation war,' he said.
He said democracy not only went in exile from Bangladesh on January 25, 1975, but it was uprooted so that democracy could not emerge in future.
Emajuddin said that the first task of Zia in 1976 was to inject live afresh to those parties who were banned following formation of one-party rule BKSAL.
He said that BNP chairperson Khaleda Zia had established parliamentary democracy after winning the 1991 election. Zia and Khaleda will remain as the pioneers of multiparty democracy in the country.
BNP joint secretary general Mahbub Uddin Khokon said that the 1971 war was a military war.
He said Sheikh Mujibur Rahman had led the political war but Ziaur Rahman had led the military war against Pakistan through proclaiming the independence.
He said that BNP lawyers were winning in each election to bar associations across the country defeating the ruling Awami League. There is no room of Awami League anywhere and they [AL] have no public support, he said .
Presided over by former Supreme Court Bar association president Zainul Abedin, the discussion was also addressed, among others, by journalist leader Ruhul Amin Gazi, Jatyatabadi Ainjibi forum joint secretary general Sanaullah Mia, BNP cultural affairs secretary Gazi Majharul Anwar and singer Baby Naznin.
Source: New Age