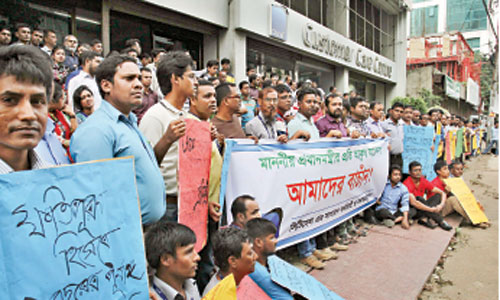 Employees of Citycell Wednesday formed a human chain demanding their outstanding salaries along with compensations as the country's first mobile phone operator faces shutdown for defaulting a huge amount of government dues.
The employees staged the protest in front of the company's main office in the afternoon raising a seven-point demand including payment of outstanding salaries and compensation for imminent job loss.
'We have already placed the seven-point demand to the (Citycell) authority but no response is yet to come from them,' said Ashraful Karim, the president of Pacific Bangladesh Telecom Limited Employees Union that runs the service as Citycell.
He added, 'All the outstanding salaries, Eid bonus, LFA bonus, provident fund facilities, gratuity and full salaries of five years as compensation have to be paid by August 21.'
Karim said the shutdown process exposed to uncertainty the future of 650 Citycell employees adding 'we are scared and dumbfounded thinking our future'.
'The government and concerned organisations should take it into consideration before ending all,' he said seeking the prime minister's intervention to realise their demand.
The demonstration came as the government started a process of scrapping the license and spectrum allocation of the operator for failing to pay the dues of Tk 477.51 crore since long.
Source: New Age