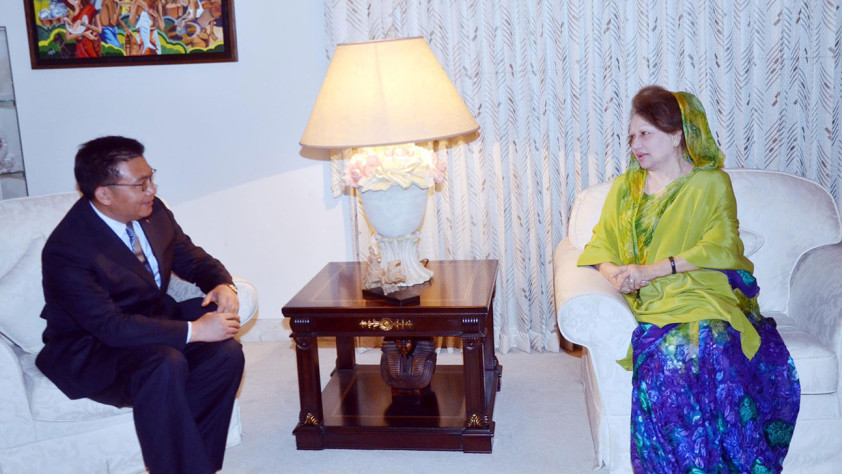 BNP Standing Committee Member Abdul Moeen Khan today said China wants political stability and peaceful atmosphere in Bangladesh for the sake of its democratic progress and overall development.
Recalling China's previous stance in favour of the country's peace and progress, he said: "Stable political atmosphere is needed in Bangladesh for strengthening its democracy and overall progress."
Moeen Khan came up with the statement following a meeting between BNP Chairperson Khaleda Zia and the visiting six-member China Communist Party delegation at her Gulshan residence this afternoon.
BNP Standing Committee Member Mahbubur Rahman, Khaleda Zia's adviser Sabihuddin Ahmad also attended the hour long meeting started from 4:15pm.
Terming the relation between BNP and China as good, Moeen Khan said, "We both believe in nationalist politics from our respective sides."
During the meeting the two sides also discussed the bilateral issues and their friendly relation since last 40 years, Moeen Khan added.
He also claimed that China sponsored undergoing development projects in Bangladesh are continuation of development activities initiated during the BNP tenure.
A six-member CPC delegation from China, led by its Vice-Minister Guo Yezhou, is now on a Bangladesh visit at the invitation of the government.
The other members of the CPC delegation are An Yuejun, deputy director general, Yang Chen, deputy director, Zhou Rong Shui, second secretary, Chen Bin, second secretary and Li Yuanxing, assistant secretary of the International Department of the CPC central committee.
Source: The Daily Star