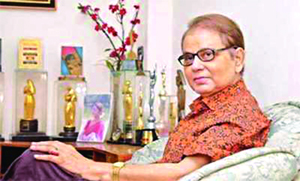 Bulbul Ahmed, one  of  the  prominent  film actors of the country, was remembered on his fourth death anniversary  by  cultural organisation Swopnalik    Bangladesh  Shilpakala Academy in the city on Tuesday.
A discussion meeting  was  organised  on  the  occasion .  It was followed by  a film-show.
Prominent filmmakers Chashi Nazrul Islam, FI Manik and Amzad Hossain, Director General of Bangladesh Shilpakala Academy Liaquat Ali Lucky and Vice-president of Bangladesh Filmamkers' Association Sohanur Rahman Sohan spoke at  the discussion.
Theatre personalities Keramat Maula, Abul Hayat, Jhuna Chowdhury, Secretary of Director's Guild Gazi Rakayet, actor Shamim Ahmed and Khondokar Shah Alam spoke on the occasion.
With filmmaker Firoz Khan in the chair, Bulbul's wife Daisy Ahmed and his daughter Oindrila Ahmed also spoke at the programme, among others.
In the wake of discussion, the commemorating event witnessed screening of 'Simana Periye', a romantic movie starring late
Bulbul Ahmed was born on September 4, 1940 in Dhaka. He started his acting career through a theatre production in 1965. He made his debut on small screen in 1968 before making his foray to movies.
The legend could have carved a niche in the hearts of millions presenting some popular films like 'Ye Korey Biye', 'Jibon Niye Jua', 'Devdas', 'Seemana Periye', 'Shesh Uttar', 'Badhubiday', 'Surjo Konya', 'Rupali Shoikotey', 'Bodnaam' and 'The Father'.
Bulbul received the 'National Film Awards' four times for playing leading roles in movies like 'Seemana Periye,' 'Shesh Uttar,' 'Badhubiday' and 'Dipu Number 2.'
He directed 'Rajlakkhi Shreekanto' in 1987 and the film won the National Film Award in 13 categories.
The actor performed in more than 300 plays and 200 movies until his death on July 14, 2010.
Source: Weekly Holiday