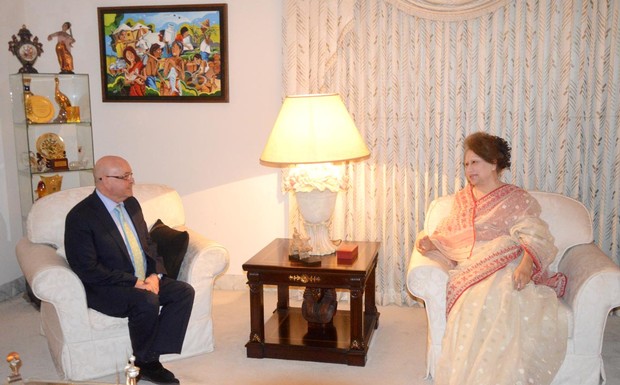 British High Commissioner in Dhaka Robert Gibson has welcomed the BNP's decision to endorse candidates for the city corporation elections.
He said this had given electorates "a real democratic choice" and hoped that the campaign would be conducted "without violence".
The British High Commission released a statement after the envoy's meeting with BNP Chairperson Khaleda Zia at her residence on Wednesday, two days after she returned home from Gulshan office.
He is the first western diplomat to go to her home after return.
The high commissioner believed that her decision to return home would help "reduce tensions" and hoped that "other confidence building measures would follow".
The BNP chief had stayed for three months in her office after she was prevented from leaving it on Jan on, two days ahead of the first anniversary of the parliamentary elections, to lead an anti-government rally.
The BNP boycotted that balloting.
But it has decided to endorse candidates in the Dhaka and Chittagong civic polls.
High Commissioner Gibson, however, reminded the Election Commission of its "responsibility" to ensure "full compliance with all the rules and regulations".
He also wished that the EC would play its "due role" in the elections.
Source: Bd news24