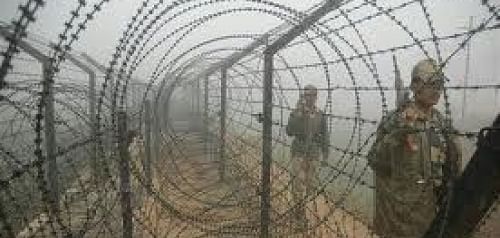 A delegation of Indian Border Security Force (BSF) entered Bangladesh through the border at Akhaura, Brahmanbaria on Wednesday afternoon, to attend a four-day border conference. As they crossed the border, the dead body of a Bangladesh national laid prostrate at the Birol border of Dinajpur. This was the body of Jahangir Alam who had gone missing after leaving his home.
His decomposed body had been lying in Gobra Bilpar, 500 yards from the Bangladesh border into Indian territory. Jahangir's body was brought back to the country on Wednesday afternoon after a flag meeting. His family said that he was shot dead by the BSF or tortured to death by them.
Jahangir Alam is not an isolated case. In the first eight and a half months of this year, at least 39 Bangladeshis were killed along the border with India. According to the human rights organisation, Ain O Salish Kendra (ASK), 32 of these people were shot dead by members of BSF. Five died after physical torture by the BSF. The exact cause of death of the remaining two, including Jahangir Alam, could not be identified.
In the corresponding period (January-September) of last year, 28 Bangladeshis were killed in BSF fire or torture. ASK prepared these statistics based on reports appearing in nine national dailies.
When coronavirus broke out in March this year, India chose to impose a lockdown and Bangladesh declared a general holiday. In March, there were no killings on the border. But the very next month BSF shot 3 dead. In May it was 1, in June 7, in July 3, in August 5 and in September 4 so far. From March to September, 23 were killed on the border. This number was 21 in the corresponding period last year.
In this backdrop, the border conference at the director general level began on Thursday between the Border Guard Bangladesh (BGB) and BSF. A 13-member Bangladesh delegation led by the DG, BGB Maj Gen Md Safinul Islam and a 6-member Indian delegation led by DG, BSF Rakesh Asthana, are participating in the meeting.
BGB's director (operations) Lt Col Faizur Rahman told Prothom Alo, "Border killing is one of the main agenda of the discussion. Our position in the same – don't kill, don't shoot."
The main reason that the border killings are on the rise is that those who are carrying these out are getting away free. BSF says it is self-defence, but not a single of these Bangladeshi were carrying any types of weapons.
Imtiaz Ahmed, professor of international relations, Dhaka University
He said, "There are many reasons behind the border killings. We also need to ensure that this comes to a halt. BGB is working to raise awareness in the border areas."
522 deaths in 11 years
According to ASK records, from 2009 till yesterday (Thursday), 522 Bangladeshis have been killed on the border. Of them 324 were shot dead by BSF. And 159 were physically tortured and killed by members of BSF. While border killings somewhat decreased for three years after 2015, these rose up again in 2019. This trend continues this year too.
Jahangir Alam's body was found at Dinajpur's Birol border on Wednesday. Three others were killed by BSF at different times during this month. A Bangladeshi, Sabil Uddin (35), was shot dead by BSF on 3 September at the Pakhiura border of Narayanpur union in Nageswari upazila, Kurigram. In the early hours of 5 September, a young Bangladeshi man, Md Badshah (27) was killed in BSF fire along the border area of Shibganj in Chapainawabganj. The body remained lying at the border the whole night. In the morning BSF took the body away. It has not been returned as yet. On 10 September, a Bangladeshi fisherman Shariful Islam (30) was shot dead in BSF firing at Baliadangi upazila of Thakugaon.
Dhaka University's professor of international relations, Imtiaz Ahmed, speaking to Prothom Alo, said no law in the world supports such extrajudicial killings. The main reason that the border killings are on the rise is that those, who are carrying these out, are getting away free. BSF says it is self-defence, but not a single of these Bangladeshi were carrying any form of weapons. If anyone crosses the border, they can be dealt with under the law. No one has the authority to shoot to kill.
*This report, appearing in the print and online editions of Prothom Alo, has been rewritten for the English edition by Ayesha Kabir