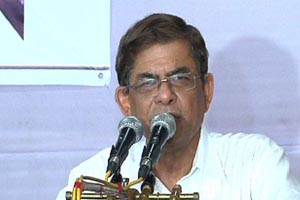 BNP spokesperson Mirza Fakhrul Islam Alamgir on Saturday alleged that President Abdul Hamid betrayed the nation through his remarks about the January-5 polls in his recent meeting with UN secretary general Ban Ki-moon.
"People's hopes and aspirations have got dashed with the President's information to the UN secretary general on election and dialogue. The fact is that people want an acceptable election immediately," he said.
Fakhrul, BNP's acting secretary general, said this while addressing a political workshop organised by BNP at a city hotel.
The BNP leader said people had hoped that the President would perform duty for the country and its people rising above party and opinion.
In the meeting with UN secretary general Ban Ki-moon on Thursday in New York, the President said, "People have accepted the election results and they're looking forward to a better future."
Later at a discussion at the Jatiya Press Club organised by Sammilita Peshajibi Parishad, Fakhrul said Abdul Hamid had been considered better among the Awami League leaders. "When a man takes oath as President, he or she takes the oath of neutrality."
Now the President is saying to the UN secretary general that the January 5 election was an acceptable one."
Pointing at the President, Fakhrul said, "Where have you (Hamid) seen that the election has been acceptable? The people of the whole country boycotted the polls."
Fakhrul went on saying, "Before the polls, Awami League leaders had told Ban Ki-moon that the election was the continuity to maintain constitutional process. Now what the President is saying is the version of Awami League leaders."
About the writ petition on the MPs' uncontested election, Fakhrul said there is no relation with politics in this regard. "We want a political solution to the political issues. If everything is done according to court orders, Sheikh Hasina cannot be the PM as court had termed her wrongheaded one."
On June 19, the High Court declared valid the section 19 of the Representation of the People Order (RPO) empowering an eligible single candidate to be elected MP unopposed.
Fakhrul said it will not be possible to legalise the January 5 polls by law.
Source: UNBConnect