BNP criticises PM for blaming Zia for Rohingya crisis
Nayadiganta English Desk   14 November 2019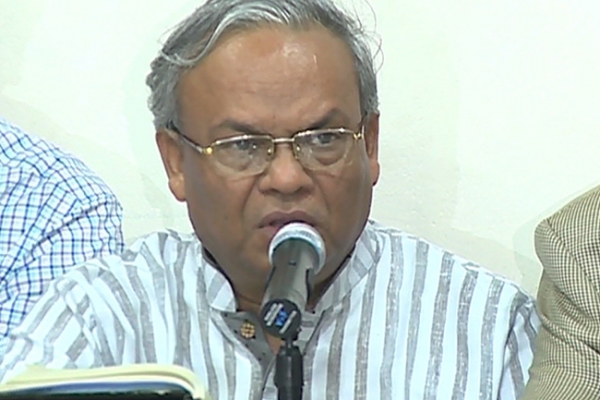 Protesting the Prime Minister's comment blaming its founder Ziaur Rahman for Rohingya crisis, BNP on Thursday alleged that Sheikh Hasina is making 'unguarded and wired' comments to hide her government's 'weakness and failure' to deal with the problem, UNB reports.
Speaking at a press conference at the party's Nayapaltan central office, BNP senior joint secretary general Ruhul Kabir Rizvi also urged the government to hold a national dialogue on Rohingya crisis after releasing its chairperson Khaleda Zia from jail.
"The Prime Minister yesterday (Wednesday) told parliament that Ziaur Rahman created the Rohingya problem…no one unless a crazy one can say like that," he said.
The BNP leader said Myanmar repeatedly tried to create a problem by pushing Rohingya people to Bangladesh, but late president Zia had strongly tackled it in 1978 while Khaleda Zia did the same in 1992.
He said their party has long been saying Rohingya crisis is a national one and it should not be considered from the political point of view.
"This crisis has link to the existence of Bangladesh. So, call for a national dialogue, and sit in talks freeing Khaleda Zia and use her experience to solve the Rohingya crisis," Rizvi said.
He alleged that the government has messed up the Rohingya crisis with its efforts to use the issue for political gain.
"The head of the government has created a terrible human disaster by using the Rohingya issue as a weapon to create her personal image," the BNP leader observed.
He said the government has got so demoralised that it is now unable to make any diplomatic efforts to resolve the problem as it lacks people's 'mandate'. "The government's failure to overcome Rohingya crisis has manifested that it's becoming friendless. That's why the Prime Minister is making unguarded remarks on the success of others to hide her own failure."
Replying to a question in parliament on Wednesday, the Prime Minister said, "There's no doubt that there was Ziaur Rahman's hand behind creating the Rohingya crisis. Following the killing of the Father of the Nation in 1975, the politics of killing and coup started in Bangladesh. Then the Chittagong Hill Tracts crisis continued from 1976 to 77 while the Rohingya crisis in 1978."
Rizvi alleged that their party Chairperson Khaleda Zia's health condition is deteriorating alarmingly for lack of proper treatment.
He said the government is conspiring to permanently cripple Khaleda and kill her in jail depriving her of treatment.